Charlie's Tale
I wanted a puppy so bad. I had seen these adorable fluffy white dogs on the front of one of my record albums ( dating myself here). They belonged to the singer, who I admired at the time. The dogs were called Bichon Frise. I really didn't know much about them except that they were so darn cute, not very big, and not supposed to shed much. So I started my quest to find one.
There were not, and still aren't, a lot of Bichon Frise Breeders in the state of Oregon. I kept watching the newspaper,(there was no internet then to speak of), and finally I found some puppies that were located about 2 hours from my home. I made a trip to a rural farm to find my new little love.
There were 5 puppies and they were 7 weeks old. The girls were $500 and the boys were $300. The people owned both the stud and the bitch as well, but my attention was primarily on the cute puppies. I chose a little boy who came to me immediately and sat on my lap. We named him Charlie, and he had the personality I had hoped for.
Friendly and loving, he was always at my side. Yes, he loved me best! Charlie went to work with me everyday, and was very well behaved in the car. As Charlie matured his cute puppy looks went away. I remember thinking he really wasn't like the dogs on the record album and really didn't look too much like the Bichon Frise I watched in the Dog Shows either. But we loved him, and everything was fine for the first year or so. Then, shortly into his 2nd year, it became apparent that little Charlie had some problems.
First it was his teeth. I notice him rubbing his mouth and the vet had to pull one of his front teeth and a large molar. The vet told me that some lines of Bichons are known for bad teeth. I didn't know, and I surely didn't know anything about brushing my dog's teeth, but he said that brushing probably would not have helped this a whole lot. From then on I was very careful to feed Charlie dry food and to make sure he had things to chew to clean off the tartar, but with all my care his teeth became very bad as he got older.
Next, the knees. Charlie loved to sleep on my bed, but he soon needed help getting up and down, as his joints would easily pop out when he put stress on them. Then it was epilepsy. One night at about 4 years of age he started having seizures. We rushed him to the vet in the middle of the night (not inexpensive) and ran lots of tests. He had not eaten anything poisonous. This was something hereditary in his brain and he would be on pills to control it for the rest of his life.
If I had done more research and checked out the parents a little better, or demanded to see eye certifications, and hip and knee certifications, asked about the grandparents and their health history, I may not have chosen this puppy. But let's talk about some other things I could have been better about. I haven't mentioned yet that Charlie was shot in the leg when he was about 5. He was wandering across the street (who's fault was that) and the neighbors' son tried to scare him away with a BB Gun and accidentally hit him.....a costly surgery and lots of pain for my poor dog. Also from walking in the woods unsupervised behind our house, he got cheat grass in one of his ears, an ear infection, and another trip to the vet. These were accidents of course, but there was absolutely no excuse for my lack of attention with respect to my dog's health and safety. He had enough ailments, he didn't need accidents to happen to him too.
Charlie's Tale lasted a wonderful 13 years. It is not unlike many, with just plain ignorance on the part of the owner. But it was also filled with love. His love for me, and mine for him and this wonderful breed. For despite all of Charlie's health problems he was one of the most loyal and intelligent animals I've ever owned. I adore these little dogs and you will too. But learn from Charlie, and be careful, not only about the dog you choose and the breeder you buy it from, but also be sure that you personally will be able to love it and protect it through it's entire life.
It is because of Charlie that I decided to improve upon the Bichon Frise breed, and to help others learn from my previous experiences. For many years these cute little dogs, as well as others, were irresponsibly bred. My goals are to help keep the Bichon Frise breed pure, keep these wonderful dogs genetically sound, and allow others to adore healthy happy purebred Bichon Frise as I now do.
"Healthy Puppies with Loving Families, that's what it's all about!"
Terri Mills
"We miss you sweet boy!"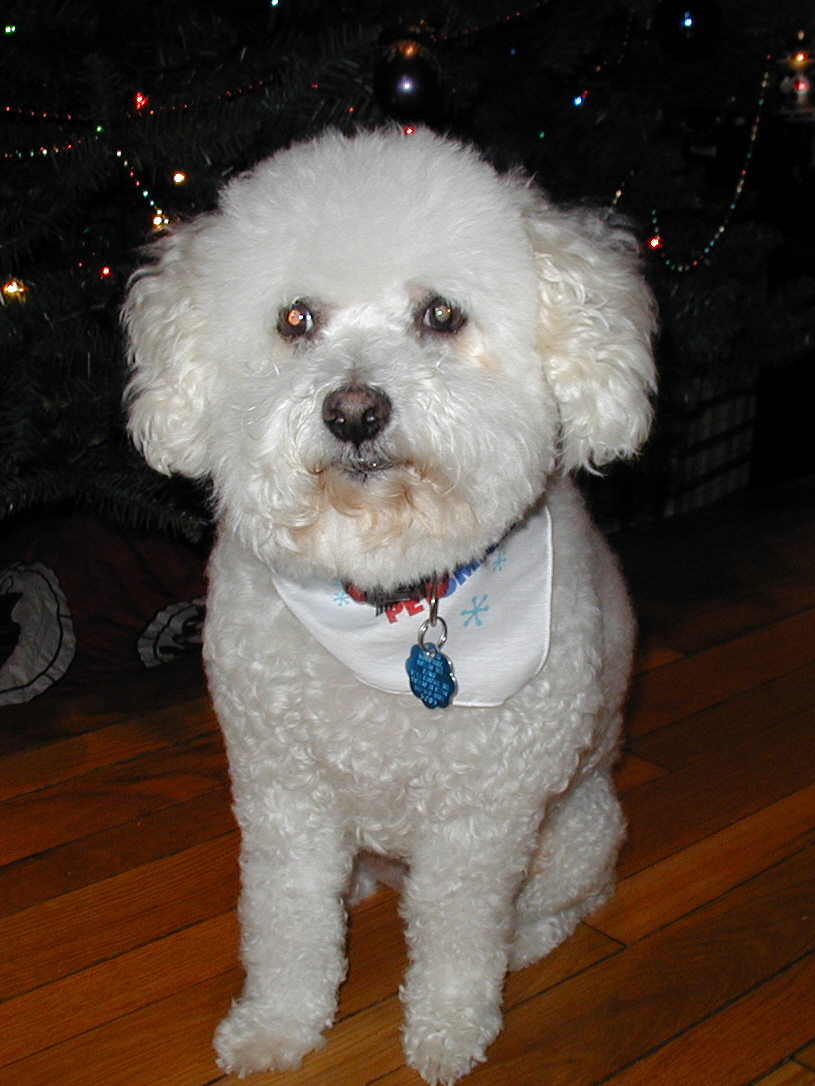 "Charlie Age 13"