Spring 2012 Puppies
"Watch us Grow up!"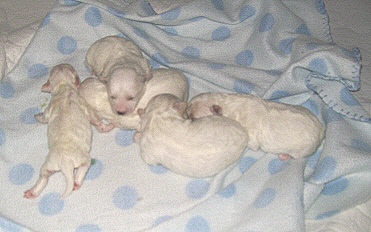 1 Week and Growing!
At two weeks old our Mom is doing pretty much all the work. She feeds us, cleans us up, keeps us warm, and makes sure that nothing is coming near us or will harm us. She hardly ever leaves us, except to hurry outside and to eat now and then. Then she comes right back and gets us all warm and cozy!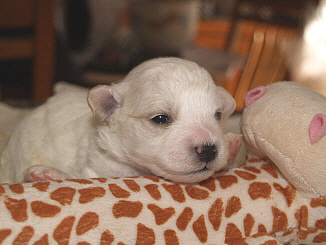 "Charlie"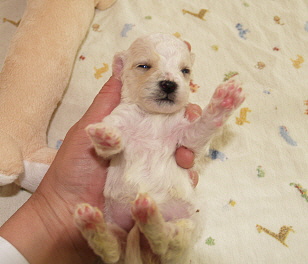 "Tim"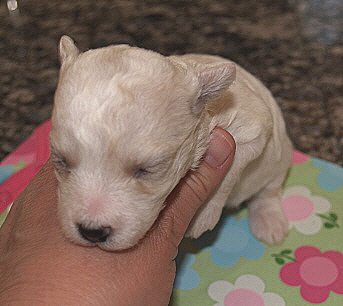 "Mandy"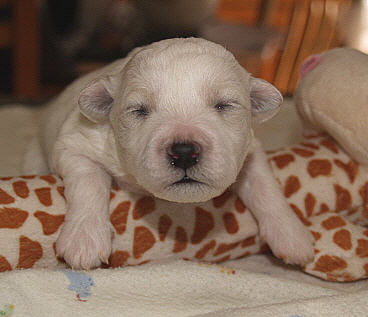 "Blake"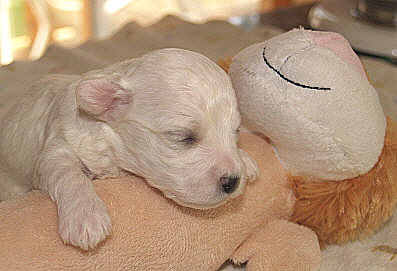 "Kenny"
Here we are at 3 weeks! Our eyes are open and we are noticing the world around us. Mom leaves every now and then, and when we see her walk by we get so excited. Some of us are doing really good at standing up.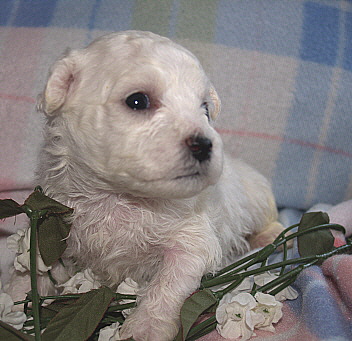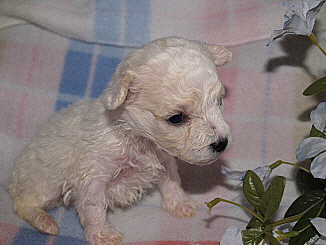 "Kenny" "Tim"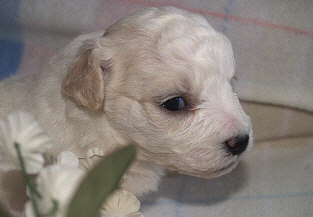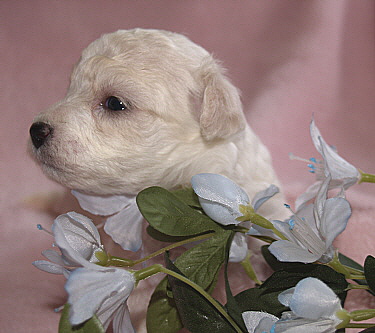 "Blake" "Mandy"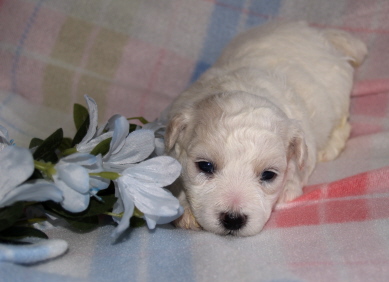 "Charlie"
At 4 weeks old something magical has happened! We are really starting to like that lady that comes to pick us up. She brings us a special bowl with good stuff in it. We can walk pretty good, we're starting to eat on our own, and sometimes we make little barks. We're becoming dogs! The only bummer is, Mom is not hanging out with us as much as she used to. She gives us a little drink, and then she leaves. We miss her, but we love to play with each other now, and when we're tired we all huddle up.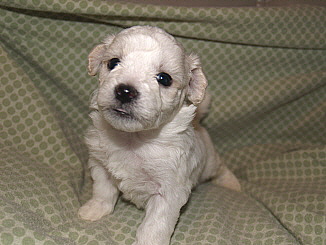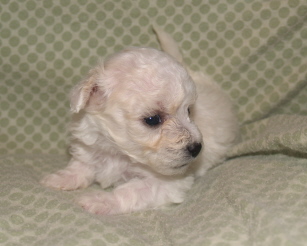 "Blake" "Tim"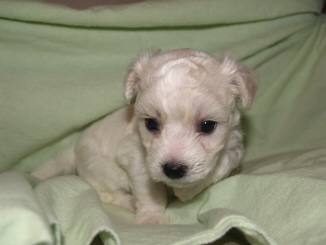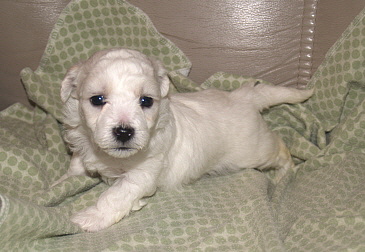 "Mandy" "Charlie"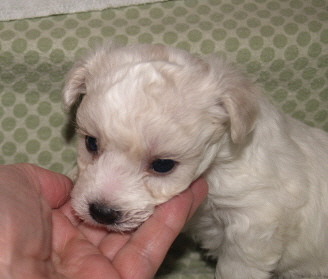 "Kenny"
We are in our 5th Week now, and we love our new freedom. There's lots of toys in our play area, and we are eating lots of good Natural Balance puppy food! Mom stops by now and then and gives us a little drink. She makes sure our faces are clean, but she pretty much is just standing guard now. We are getting our baby teeth, and that makes nursing us not as much fun as it used to be!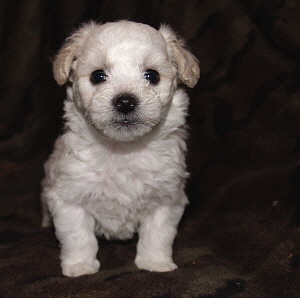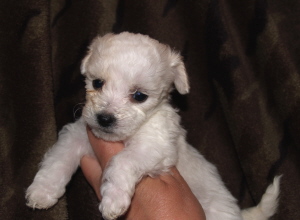 "Blake" "Tim"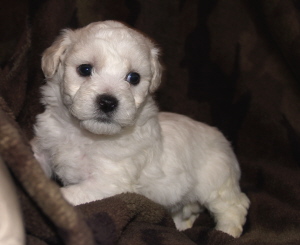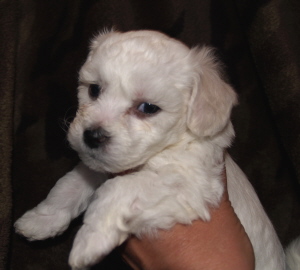 "Charlie" "Kenny"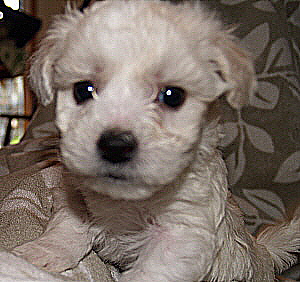 "Mandy"
6 weeks sure goes by fast! We are getting so cute, and we are really starting to like people! This week we are going to learn about being in our own crate! I guess that means we will sleep in a different bed now! We might not like it at first, but pretty soon our crate will be like our own little den, a place of safety and warmth! We'll all really miss huddling up at night, but we can still do it during the day!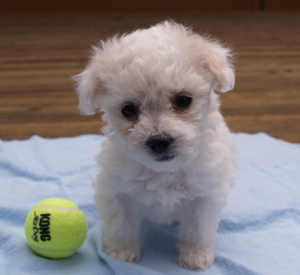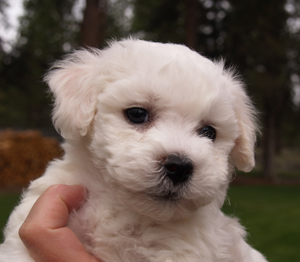 "Tim" "Kenny"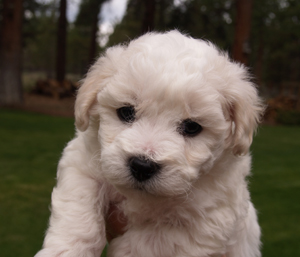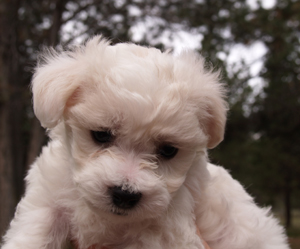 "Charlie" "Mandy"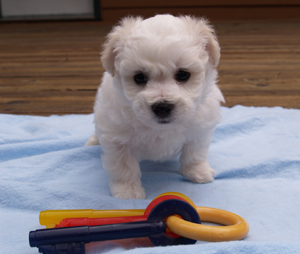 "Blake"
7 WEEKS!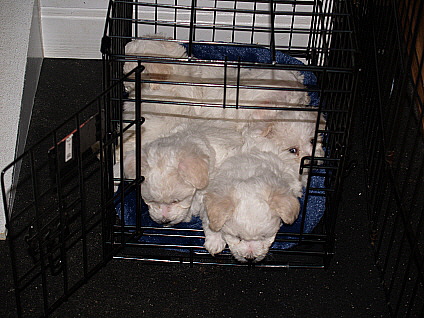 Look Mom! We're crate training!
As you can see our coats are starting to fill in. Some of us are all White. Some of us have Buff on our ears, and one of us has Apricot on his ears, just like our Mommy Taylor did when she was a baby!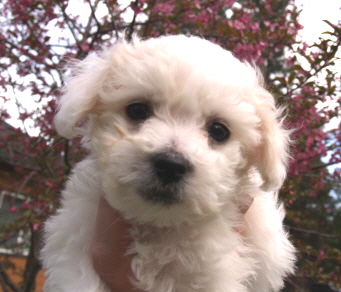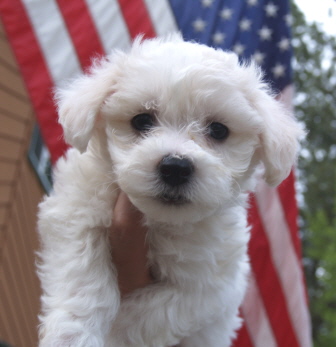 "Tim" "Mandy"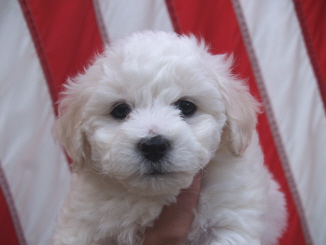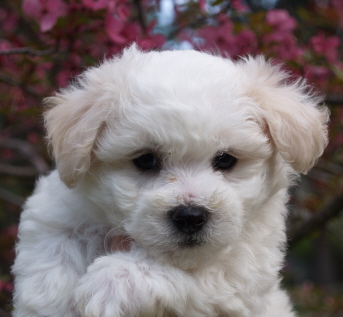 "Charlie" "Blake"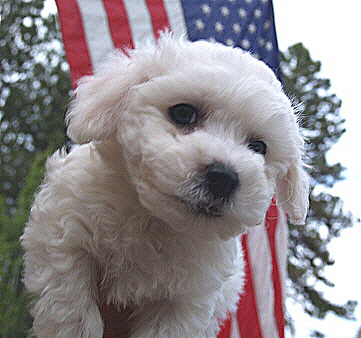 "Kenny"
Here we are 8 weeks of age! We will all soon be going to our new homes around the Pacific Northwest.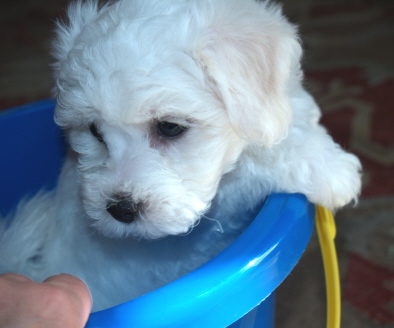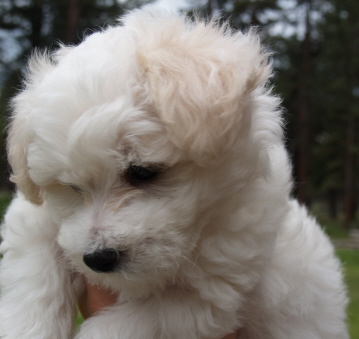 "Kenny" "Blake"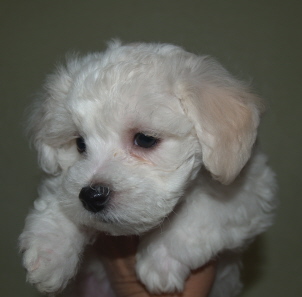 "Mandy"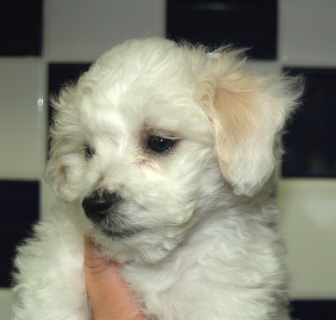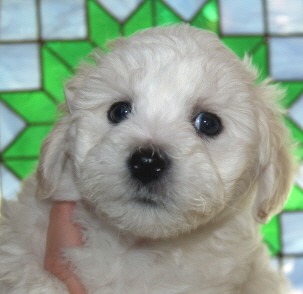 "Tim" "Charlie"
Our babies are all leaving to start their new lives. We are so thankful to have found such wonderful families to love them. It is hard to say good-bye, but we know we will see them again, if not in person, in their photos. We thank all of you who have sent us such nice comments about the website, and who have been following the progress of our little ones. If you would like a Luv'n Country baby for your very own, don't hesitate to contact us.
"Healthy puppies with loving families, that's what it's all about!"
Terri Mills

Check out our 2012 Spring Puppies and Their People Page! You can meet our families!