Bichon Frise Make Great Pets
Here are just a few of the reasons why we think Bichon Frises make great pets. These are in no particular order, but we'll start with something we feel is very important:
1. Personality:
Bichon Frises will entertain the whole family with their antics. Our 5 Bichons all have distinct and entertaining personalities. In the late 1800's Bichon Frises (History of the Bichon Frise) were know as little clown dogs, and could be found doing tricks in circuses and fairs. They definitely live up to this name. Each one of our dogs has developed their own ritual for amusing themselves and for getting our attention. Toby, our beautiful boy, loves his little stuffed toys. When we tell him it's time to go outside or time for bed, he runs to find one of his little toys to carry with him on the way. If he can't find one of them....a hand towel or a wash cloth will do!!! It is so funny to watch, because it is so important for him to carry something!
"I Can See Better Sitting Up!" Toby......"My Own Toy!"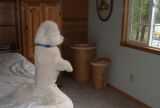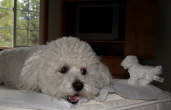 2. Crate Training:
Crate training is very easy with the Bichon Frise. Your Luv'n Country puppy will be introduced to crate training before you bring it home. It is important to establish this at an early age. Bichons do well riding in the car, sleeping and even eating in their own crate. They feel safe and it is like their own little den. Crate training is important for your dog's safety, and the Bichon adapts to this very well. When our girls get tired at night, they look for their crates which are side by side, and they both know which one belongs to them, Trisha on the left, Kimber on the right!
Click here for a link to a very good e-book that includes all sorts of training for your Bichon. I have gone through this myself and highly recommend it for new puppy owners as well as existing Bichon Frise owners.
3. Intelligence:
The Bichon is an intelligent breed. They will easily learn the basic commands like sit, stay, and lay down. "Come", however, as is the case with many dogs, is a word they understand well when there's something in it for them....but there are some times when it just doesn't seem to register. It is true that Bichons, because they are so smart, can be a little stubborn and they seem to mature a little slower than some of the other smaller breeds. Some forms of training (like potty training) might take a little longer, depending on the dog, but they will most certainly master it with your patience and persistance. My girls were already crate trained and sleeping all night when I brought them home as puppies. Emmylou at 8 weeks, and Taylor at 13 weeks. Toby had not been worked with at all when I brought him home at 8 weeks, so I did the same routing as I do on all of my pups now, and he soon learned to sleep all night without getting up to go outside.
"Intelligent Playful Eyes" "Was that the wind or did someone say come?"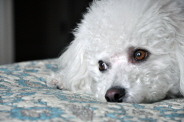 4. A Beautiful Coat:
Yes, a well groomed Bichon Frise coat is gorgeous, and yes, Bichon Frise needs to get haircuts. Their hair can be time consuming and cost you money to maintain. We will show you how you can learn to groom your pet yourself and still have that beautiful Bichon look.The wonderful thing about the Bichon coat is most of the hair stays in the dog's coat until you brush it out, so you have less mess around the house and less chance of allergies. But you can't put off brushing, otherwise you will get very nasty mats and your nice even coat will be ruined.
5. Adaptability:
I got my first Bichon Frise puppy, Charlie, (see Charlie's Tale) about 18 years ago. My children were 7 and 10 at the time. Charlie loved our boys, and was always happy to see and play with any of their friends that came over. He however, was not used to little toddlers and was very afraid when first encountering them. Your Bichon can be very good with any children, but it needs to grow up around them and get used to their rougher play. That doesn't mean an adult dog who has only known adults can't learn to like kids, but it might take some socializing and patience on your part. Bichons can adapt to most circumstances as long as you are there with them. They love being outdoors, traveling in the motor home, riding in the boat, and they can do every bit as well in an apartment, as long as they are taken out for exercise and potty during the day.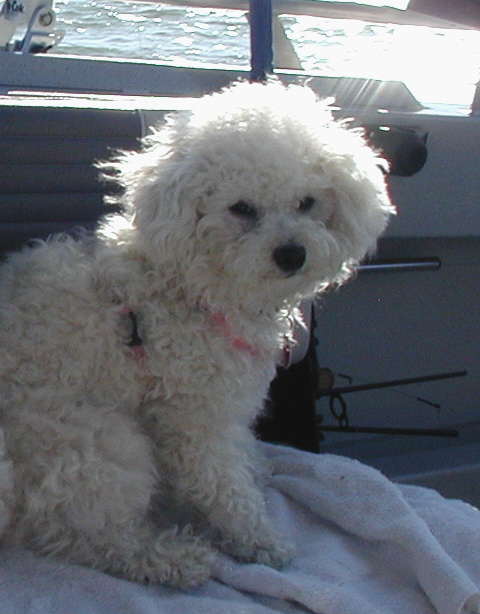 "Are we catching any fish yet?"
6. Close to you:
The Bichon Frise, (History of the Bichon Frise) or Curly Lap Dog, as it was once called, loves to be with you. The term "my little shadow" applies to all of our dogs. They love to be where we are. We are lucky to have more than one, as they do keep each other company when we have to be gone for a little while. We do, however, travel with them a lot. We take them all camping and fishing and all are happy just to be going with us. At home they seek out our laps whenever we take a minute to relax. With longing eyes, each one will look up at us hoping to be picked up and cuddled. I'm never cold sitting and watching television, reading a book, or doing my knitting as there is always at least one dog on my lap or next to me keeping me warm.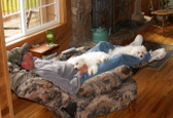 "Dad and the Girls"