They grow up so fast!
4 weeks old

Our Spring 2012
Puppies and Their People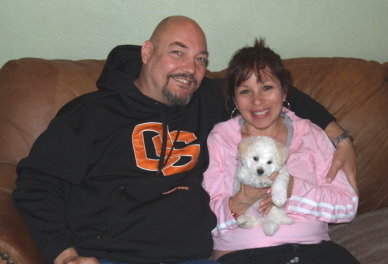 "Blake"
This sweet boy with the pretty apricot ears didn't travel too far from us. His new home is in Salem Oregon, where he has been having fun with his new Mom and Dad, Linda and Chuck. He is such a lucky boy to have either Mom, Dad, or both home with him at all times! Our award for "Best New Name for 2012" goes to.....Romeo Richard (King of the House)!

"Terri and Mark from Luv'n Country are amazing! Our experience with them is nothing short of outstanding. From the first day we met, they kept us informed on progress of the puppies, as well as sharing their expertise as breeders. We highly recommend Luv'n Country and wish all pet lovers can have the same experience that Linda and I have had."

Take Care,

Chuck and Linda. :)

More Romeo Photos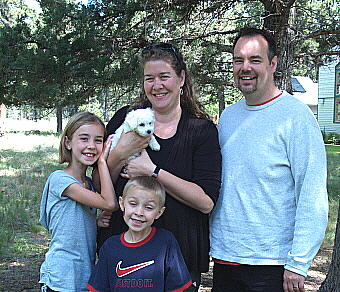 "Kenny"

There's always one or two in every litter who like to show off at an early age! Yes, we have a smarty pants in the group! At only 8 weeks,"Bentley", as he is now known was doing some pretty incredible tasks for a small puppy. Sitting up on his haunches to request to be held or to get a treat, chasing the ball and bringing it back to the hand, pushing through the big dog doggy door all by himself without fear. Oh yes, he is a very smart, very busy Bichon, and he has been learning a lot from Kris, Nate, and their young family in Beaverton Oregon.

"Hey, Terri! Wanted to give you an update on Bentley. He's doing really amazing! I think Nate told you we started bell training him last week. He's picked up on it really quickly, and I'm excited that it's helping with the potty training. The phase he's in right now is that he rings it constantly because he just loves to be outside! We're religious about opening the door each time he rings it, though, even though it can get a bit tiring! The back door opens onto a deck that is higher than the yard, so we can't just let him out to play (since he can't go down steps by himself yet). It's a lot of work in the short term, but I know it will pay off. He doesn't have many accidents anymore, but mostly I think that's because we take him out so often!

He is getting much more active and loves to play! He chases us around the yard, and loves to chew on his toys. He sleeps very well all night now, though I usually set my alarm for 5:30 to take him out so he doesn't have an accident. He is so good about going potty right away when I take him out, so it's a quick process. He doesn't whine at night at all anymore, and I think he's almost ready to have his crate on the floor away from the bed.

Thanks again for everything!"

Kris


"Charlie"


So calm, so quiet, and such a snuggler. WHO KNEW that "THOR" would be the winner of the "2012 Toby Award"! He looks and acts exactly like his very smart energetic Dad, Toby, at 12 weeks! Thor now keeps Greg and Carol very entertained in his new home in Olympia Washington!

Check out Thor and his knowledge of hand signals at only 12 weeks! Wow!

http://www.youtube.com/watch?v=ZTRjRfOIMnk

"He's so smart!"

More Thor Photos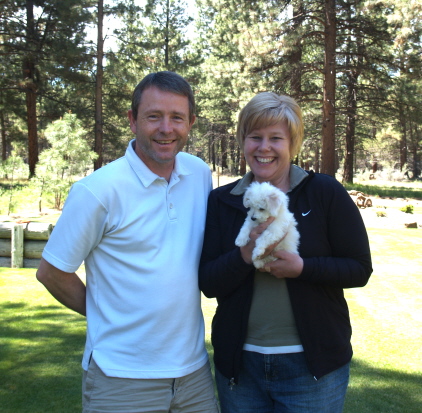 "Tim"

Our littlest guy from this outstanding group of puppies has found a wonderful home with Steve and Eileen in Oregon City, Oregon. They have named him Harley, and he has won this season's award for "Best on the Potty Patch"! Yep, this tiny baby was the first in the litter to start using the patch, and the most consistant at using it before he left us to go to his forever home! Yeah Harley, you're off to a great start toward potty training!

"He is doing great! We were at the Vet this morning and a lady asked if we were empty nesters. I guess we looked like proud grandparents. The Vet was very impressed by Harley's baby book that you put together. Thank you so much as it was so easy to reference shots and birthday info at our fingertips."

"The night time crate training that you started him on has been a godsend for us. Harley has been sleeping through the nights basically going to bed between 10:30 and 11:00 and getting up around 5:30 am. We pretty much know his schedule so it has been pretty easy to predict when he needs to do his business. So he goes outside most of the time unless it is something we are not able to predict. When he is playing though, ALL BETS ARE OFF!!! A couple of times this last week, he walked a couple of steps in the direction of the backdoor but stopped short. Then (yes, you guessed it), business time!"


"Mandy"


Our only little girl from this batch of cuties is now know as Pearl! She is having lots of fun with Sheila, Kevin, and her two new sisters in Newberg, Oregon. Pearl, in my opinion is one of the finest females we have raised, of our Taylor/Toby babies. She has a wonderful personality as well as excellent conformation. We look forward to seeing this little "show pet" as she grows into a real lady!

More Pearl Photos

We want to thank all of our new puppy families for adopting our babies! Raising a puppy is a big commitment and a lot of work. We applaud all of their efforts in helping our Luv'n Country Bichon puppies become happy, healthy, and well socialized members of their families for many years to come!

"Healthy puppies with loving families, that's what it's all about!"

Terri Mills