Our Fall 2011 Bichon Frise Puppies
and Their People
Carrie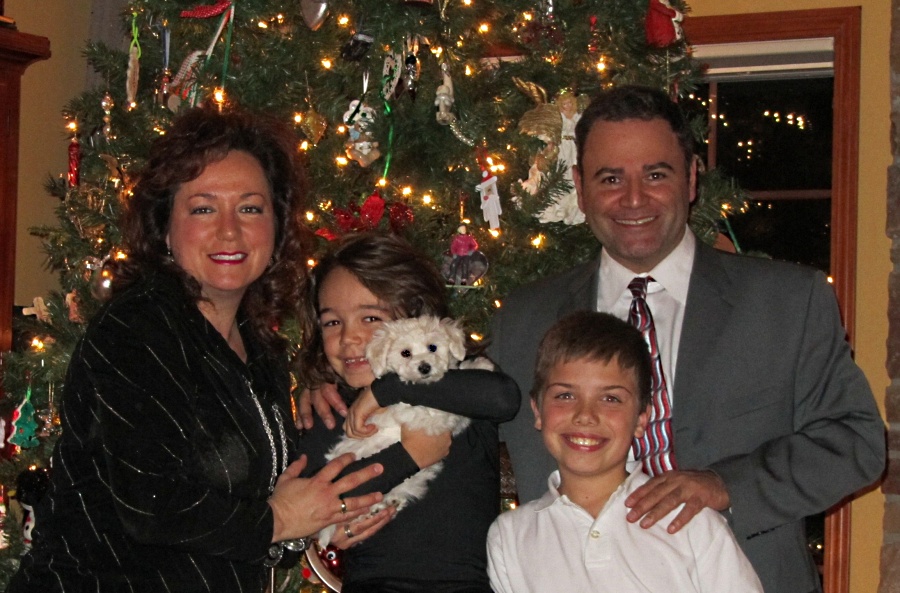 Josee and Norm have a sweet new addition to their family. Norm made a long plane trip to bring her back home to their children. Her new name is Coconut, and she is healthy and very happy in her new home in Fargo, North Dakota! We're thinking Coconut has made her new people pretty happy too!
"Just wanted to give you an update on our little girl! Well, she is thriving and we couldn't be more pleased with her and with your program. She had an amazing start and we can tell every time we look at her or watch her play and bounce about. She is so precious, so cute, so self-confident. She makes us smile all day, every day, and everyone that meets her falls in love immediately with her. We are so happy that we met you and your beautiful puppy family. She is growing fast, and learning so much every day. She loves everyone in the family, and is so happy here. And so are we. We cannot Thank You enough, for all you've done to ensure you are providing quality puppies. Coconut was worth every penny, and then some. She's a Sweetheart!!!! Here are a few photos. Hope you enjoy them. Norm is traveling this week so we only have one family shot so far, but more will come. Have a wonderful day, and thank you again, from the bottom of our hearts. We absolutely LOVE her!!!"
Johnny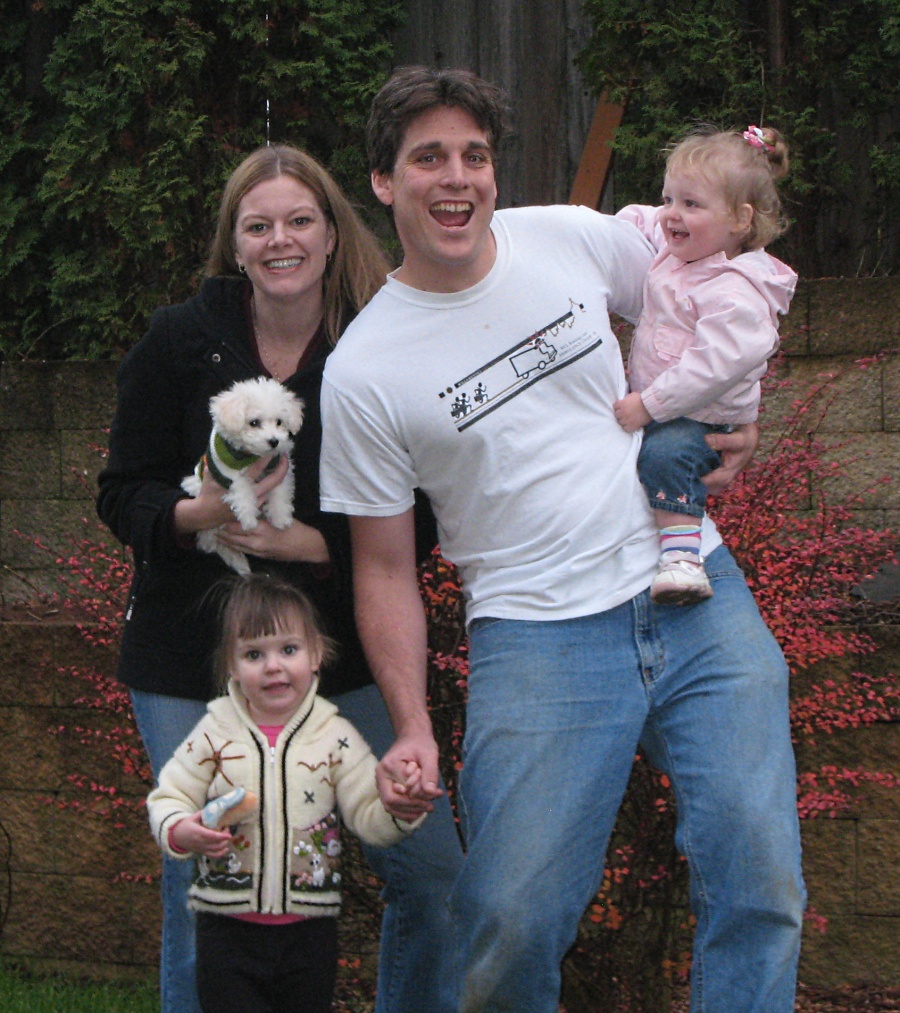 Our littlest man has a wonderful new home in Salem Oregon. He had a slow start, but as you can see from our photo he has caught up nicely. Julia had a Bichon Frise when she was growing up, and so in honor of her favorite pet from the past, they have named him Finley! Finley will grow up loving and being wonderful with small children! We love those happy faces!!!
"It's nice to know that Finley's brothers and sisters have found such good homes. Finley is really adjusting well. He's getting so big already! We love him so much and are so happy that he has joined our family."
"Thank you so much for all of your help throughout the adoption process. I had tons of questions, and you were always willing to answer them. We followed your advice regarding the crate and he is still sleeping through the night. He is also occasionally using the potty pad (always in the mornings). He's so smart! Additionally, we enjoyed talking to you through Skype so that we could see Finley. My daughters and I loved it! We also found your website easy to navigate and you were responsive to our needs. Your handbook had a wealth of information as well."
"Thanks again for everything! We look forward to sharing photos with you of Finley over the years. :) We would definitely recommend you to anyone who is looking to adopt a Bichon Frise!"
The Rices
Waylan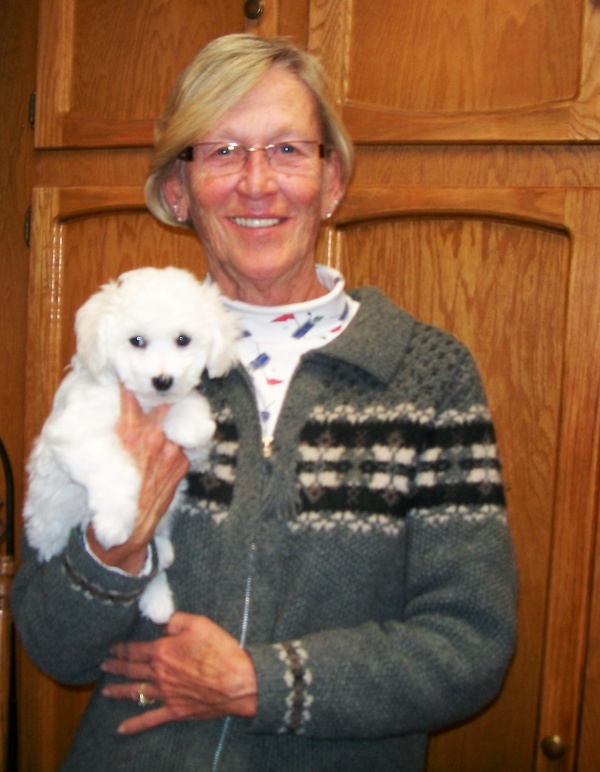 Kathy and her husband love to travel. They will be taking their newest family member with them. Cash is his new name, and he will call Wilsonville, Oregon home. He will spend a lot of time in Arizona too! He has a new buddy to play with, a Golden Retriever named Jake! Cash has earned our "Toby Award for 2011"!!! That's because he looks and acts most like his Dad, Toby. We know he'll have no trouble keeping up with that Golden Retriever!
"...he is doing great...we just love him :) We will keep in touch. Thanks, Kathy"
Sara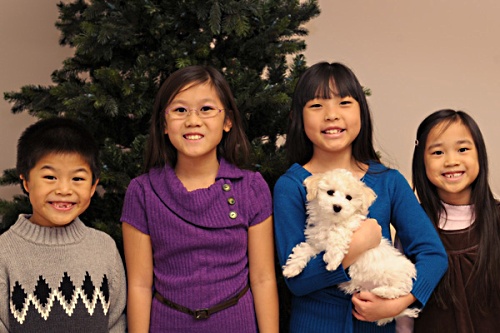 This pretty puppy made a long plane trip to Tennessee, but she wasn't all alone. Cindy's 2 older children (not pictured here) flew all the way to Oregon to bring her back home to the family. We really enjoyed meeting them. It was quite a decision, but the final name this beautiful family agreed on is Macy! She is a very lucky Bichon puppy to have so many children to play with and love her. Way to go Macy! You're the first Luv'n Country Bichon to make it to Nashville!
Faith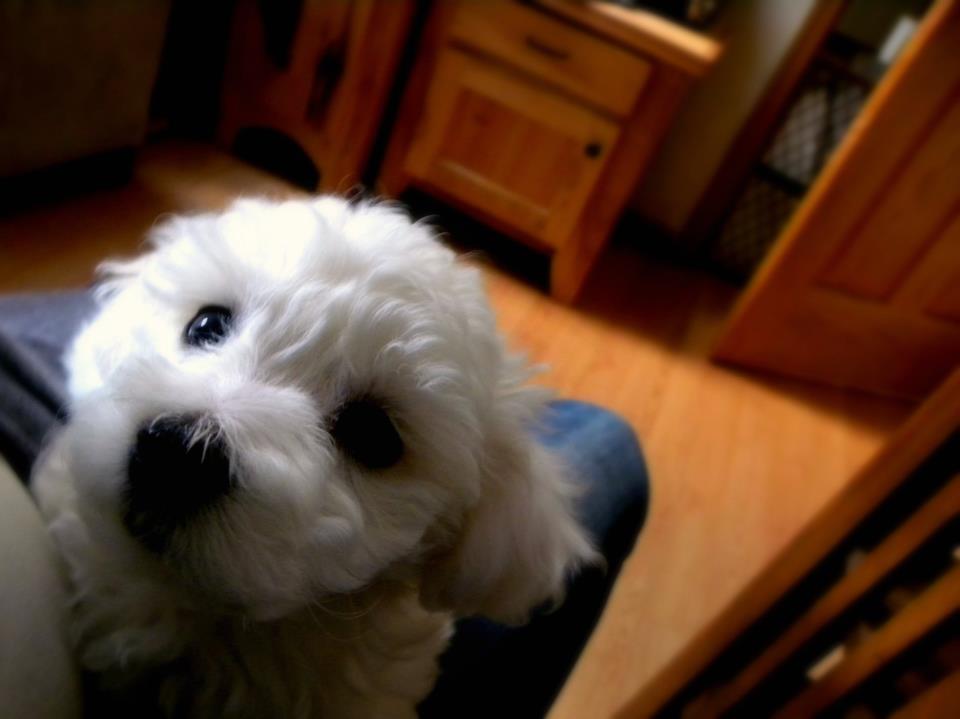 She's is the third of our cute little girls to travel far. She has a beautiful home in the country with Cheryl and Tom in Twin Lake, Michigan. We hope to see this sweetie again someday when we visit our family in this state. She is now known as Pearlie Faith, and based on her overall confirmation Pearlie Faith has been voted "Most Likely to Show for 2011!"
"Pearly Faith is wonderful, smart, fat, and sassy. She is helping me type as we speak. She is at the little longer than taller stage right now, and teething like mad. She sleeps with me every night. Great Puppy!. I love her very much!" ...Cheryl
At Luv'n Country Bichons we know that bringing a puppy into your life is a big commitment. We want to thank all of the very special people above for adopting our babies, and making them part of their families.
If you were one of the many folks who called us and did not get a chance for one of these precious puppies, please contact us about being on our waiting list. We'd love to have your family on our next "Puppies and Their People" page!
"Healthy puppies with loving families, that's what it's all about!"

Terri Mills

Click Here to see our Spring Puppies from this year!