Our Spring 2011 Bichon Frise Puppies
and Their People
"Healthy puppies with loving families, that's what it's all about!"
Terri Millls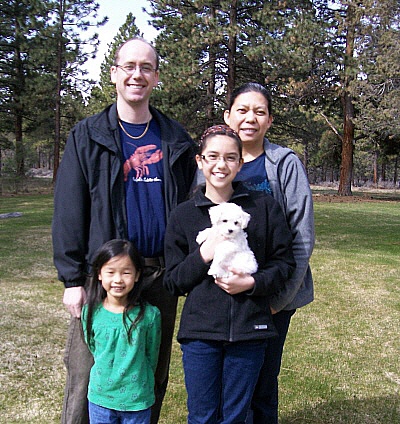 Crystal
This sweet little girl is now know as Coconut. Jim and his family, came all the way from Renton Washington to pick up their new Bichon baby. Coconut has our vote for best kisses. She's loves to give them to everyone!
Vince
Cool and calm, he is now known as Julius. It's our favorite new puppy name of the year! Julius is now living in Hillsboro Oregon with his new Mom and Dad, Beth and Randall. We can't wait to see how this handsome guy looks when he grows up!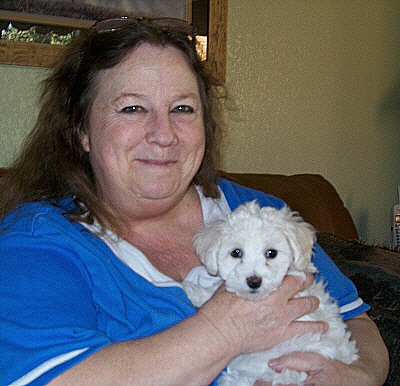 Heidi
She has been voted the Best Coat of our 2011 Bichon Frise puppies. Her new Mom, Sandi, has named her Nesika. This pretty little girl with the pretty name is now living in Bend, Oregon! That's only 30 minutes from our house, so we hope to get to see her often!
"Nesika is so much fun. She is so social. Enjoys everyone all the time. She goes to church with me and the kids love her, and she loves them. She is so smart, and so fun to watch play. I couldn't have had a better companion. All adults are in love with her."
Thank you, Sandi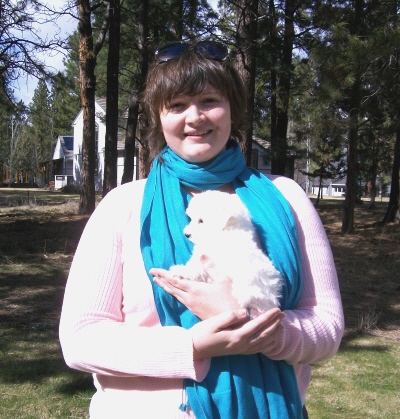 Trace
What a charmer! He now lives in Portland with his new Mom, Lehua. She has named him Eddy, but at our house he is known as Mr Photogenic. We could always count on Eddy to pose for the camera. We are hoping to see some good photos of him as he grows up!
"Luv'n Country Bichons are the most amazing breeders. I could not have asked for a more thorough, supportive, loving family of dog breeders. Even when I was emailing everyday in those first couple of days, I got nothing but love and great advice. If all breeders were this great, we wouldn't have so many rescues. Terri, you are awesome! Thank you so much for everything! And I will be updating you on Eddy's progress most regularly."
-Lehua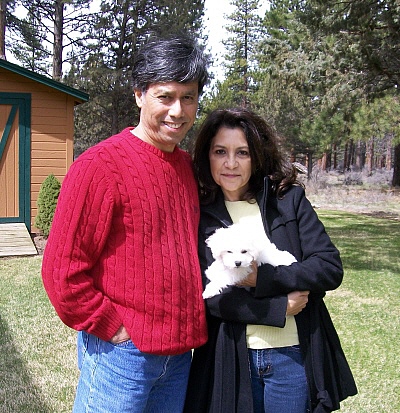 Travis
Our littlest man has a new home in Monrovia, California. Lorraine and Tito have named him Noah. They made a long drive to pick up this cute little boy. We are so pleased that Noah has found such wonderful new parents to take care of him so far away! Maybe someday he'll be a movie star!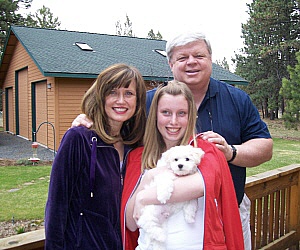 Willie
We try really hard to find the perfect family for each of our Bichon Frise puppies, and we could not have found better people for this sweet little guy than Steve, Jayne, and their daughter Carly. Winner of our 2011 "Luv'n-A-Lot" puppy award, he's now living and getting lots of luv'n in Portland Oregon with his forever family.... and his forever name... is Willie!