Fall 2011 Bichon Frise Puppies in Oregon
Watch Us Grow!
Our new Bichon Frise babies were born September 23rd. As always, for identification purposes, we have named them after Country Stars. Our 2011 Bichon Frise puppies in Oregon are Waylan, Johnny, Sara, Faith, and Carrie! We hope you enjoy watching our puppies grow. Over the next 8 weeks you will see quite a change as they mature.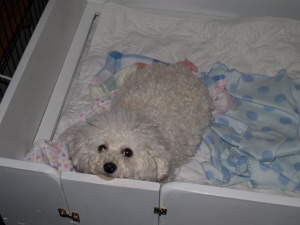 Labor Day September 23rd
Tired Family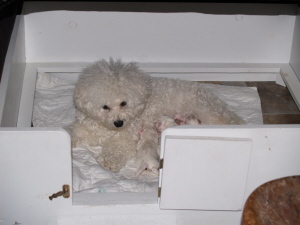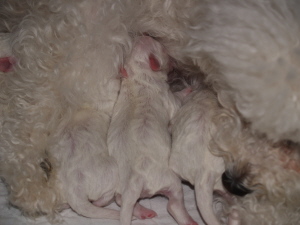 Huddle Up!
AGE 2 WEEKS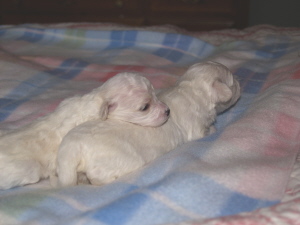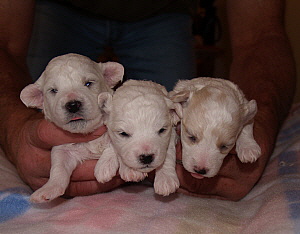 The Boys The Girls
Our eyes are just opening. We are starting to crawl and get up a little on our legs. Every once in a while one of us tries a baby bark, and it surprises everyone, including MOM!!!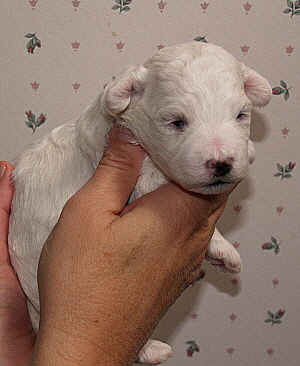 Waylan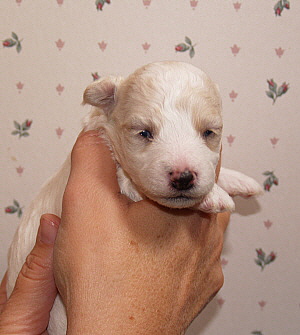 Sara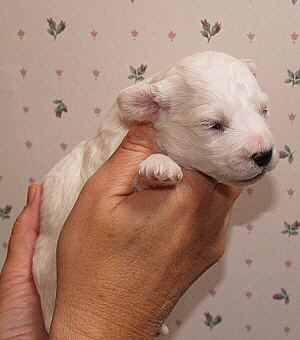 Faith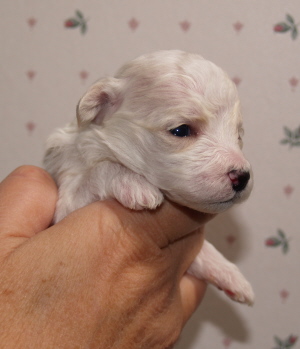 Johnny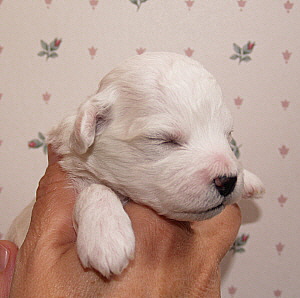 Carrie
Age 3 Weeks
We are getting to know our people. We really like that nice lady that comes and cleans up for us. Our eyes are all open, and we are starting to walk on all fours. Mom is starting to leave us alone more now, and so, we have started communicating more with each other. We really get excited when Mom comes back to our box though! She still has our food!!!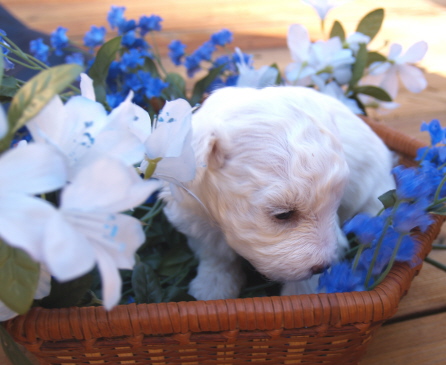 Johnny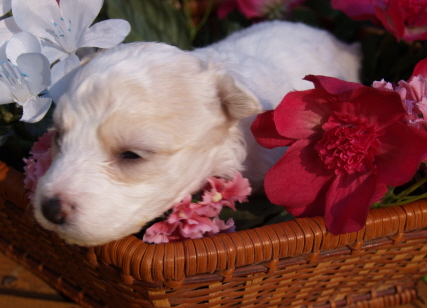 Sara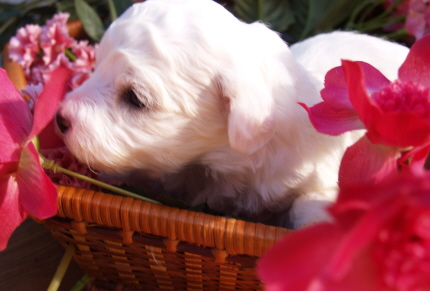 Faith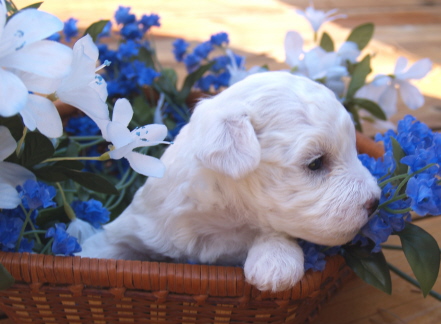 Waylan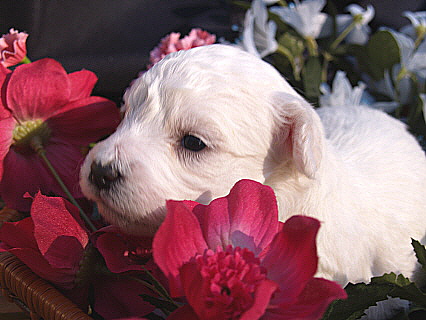 Carrie
Age 4 Weeks
We are 4 weeks old, and now the fun begins. This week we will learn to eat from a saucer. It will be a mixure of substitute puppy formula and ground puppy food. We will still get milk from our Mom, but gradually she will want to stop feeding us. Oh well, it was good while it lasted!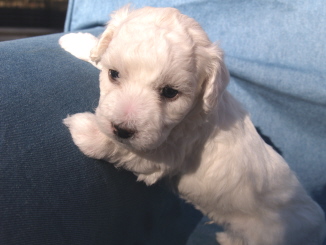 Waylan
Faith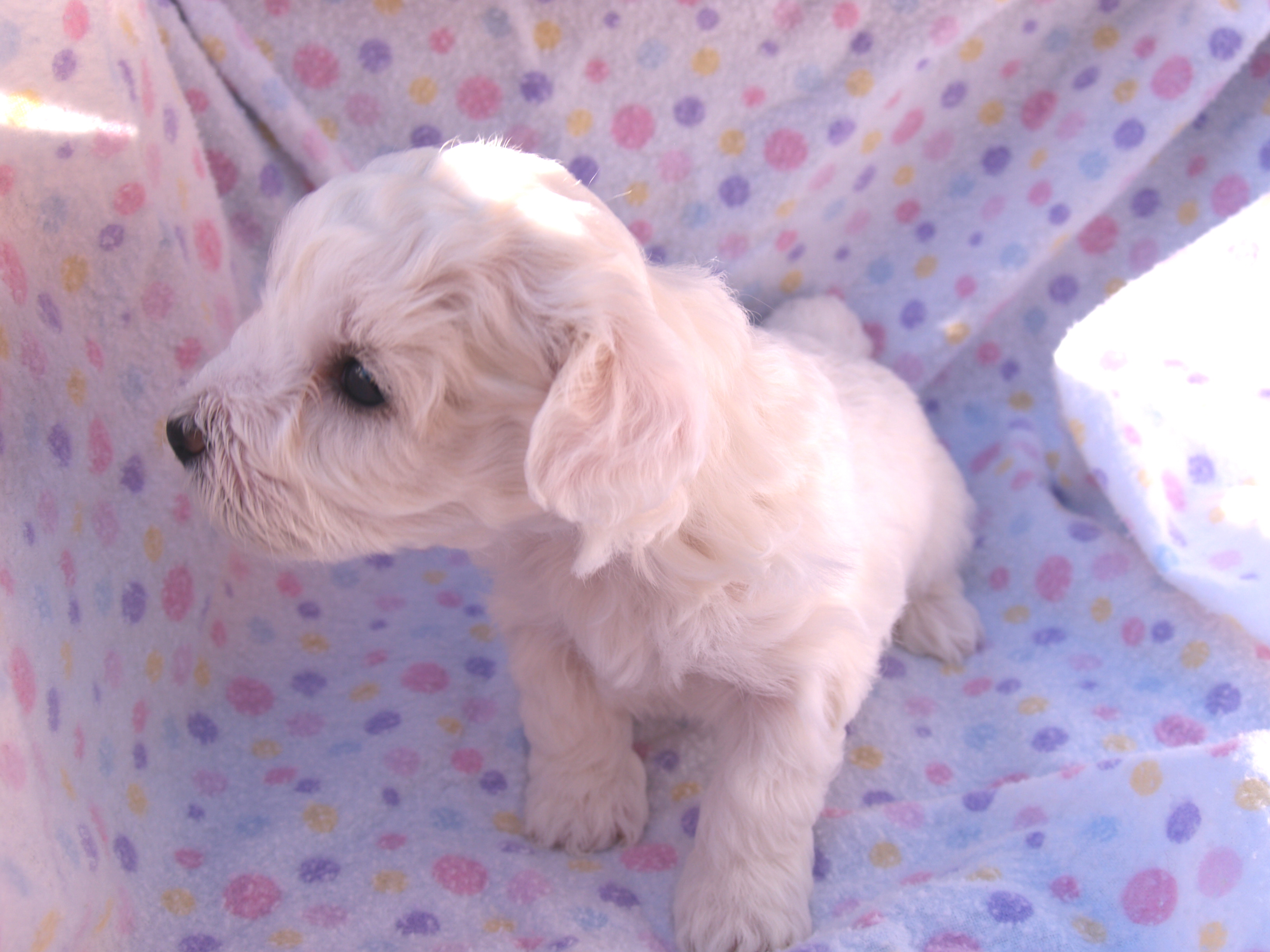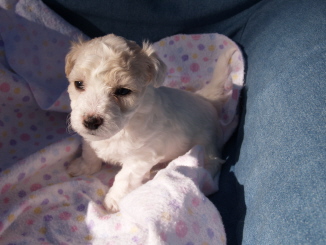 Sara
Johnny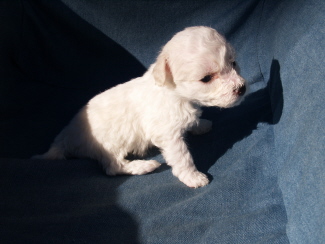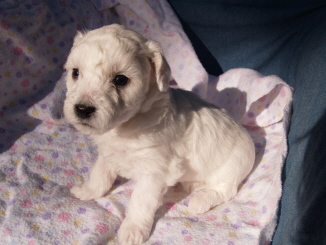 Carrie
Age 5 Weeks
At 5 weeks old, we are getting very curious and full of energy! Our new puppy food is yummy! Mom still feeds us too, so we are getting lots to eat! It's a good thing, because we wrestle, we roll, and we are learning to play like the big dogs. Oh...and we have learned that we don't potty in our bed area anymore! We have a special place to go now! We are growing up so fast, and we love it when our people pick us up and hold us.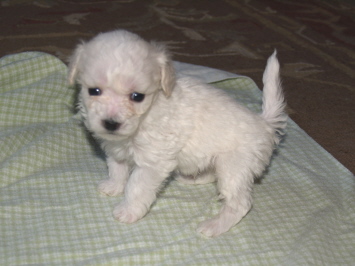 Johnny
Carrie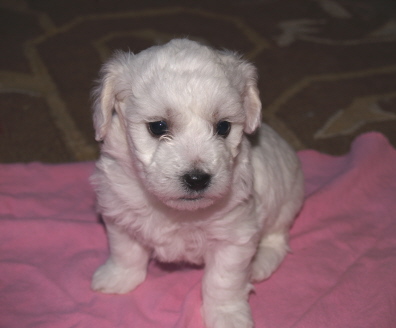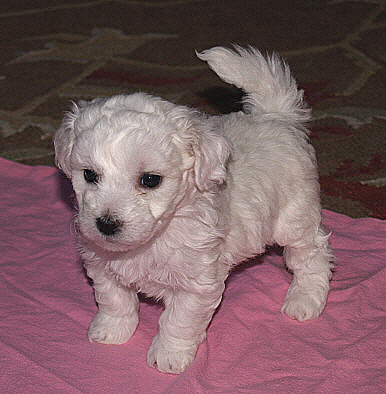 Faith
Waylan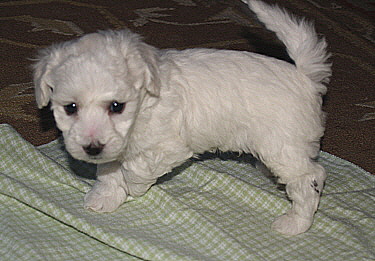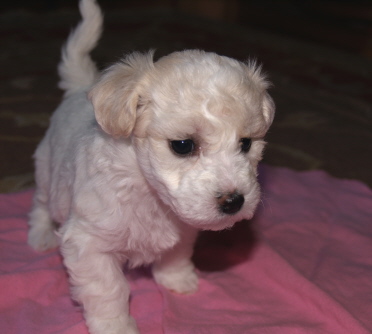 Sara
Age 6 Weeks
We're getting very busy. We chew on our toys, we chew on each other, and we are now eating lots of our Natural Balance puppy food. Mom stops by now and then, but she doesn't have much to offer any more! Our coats are starting to get curly, and it's hard to take our pictures because we are constantly on the move! This week we will start learning to use our Potty Patch!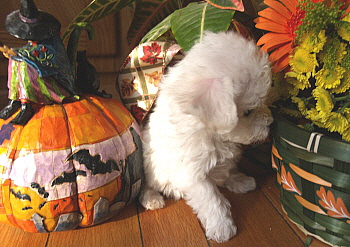 Johnny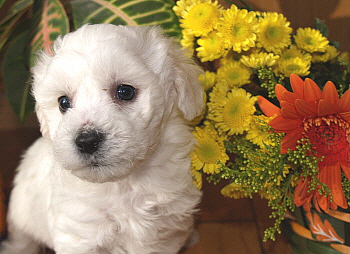 Carrie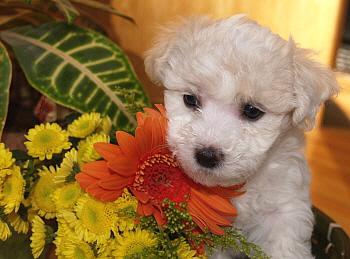 Sara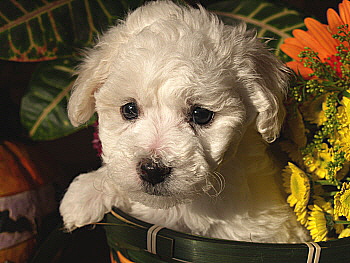 Waylan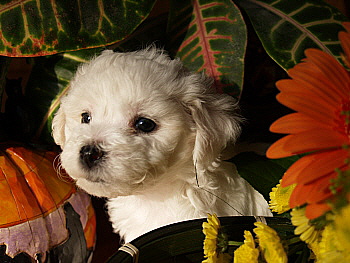 Faith
Age 7 Weeks
Our personalities are really coming out now. We are very eager for your attention, and we love to see the big dogs when they come by. This week the Potty Patch took the place of our puppy pads. Some of us are getting the hang of it and some not, but we are all very smart and should learn soon where we are to go. This week we will really be focussing on our crate training.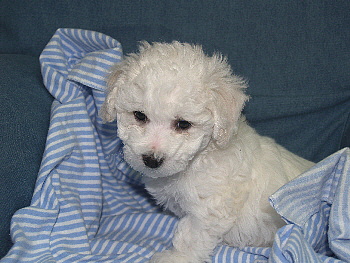 Waylan: He's the leader of the group. Waylan loves to play, and we've notice that he likes to pounce on his playmates when he gets excited... very similiar to his Daddy in the early years! He has a beautiful coat and very nice expressive eyes.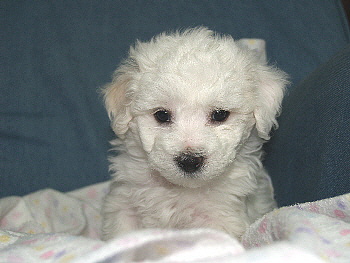 Faith: She is the smallest of our girls, a compact cutie full of energy. She loves to play with her brother Johnny. Faith has dainty features. She will probably be the smallest of this litter. Her coat is thick and her pigmentation is excellent!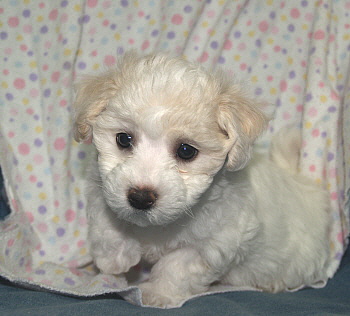 Sara: She loves to play with the boys, especially Waylan. Sara is a highly intelligent puppy. She is always the first to get the new toy, or try something different. Sara is already using the Potty Patch! She has beautiful eyes and a wonderful creamy white coat.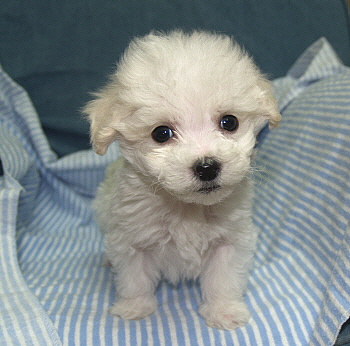 Johnny: Everybody loves the underdog, but don't think Johnny is any bit less developed socially than the rest of these cuties. Johnny is using the Potty Patch! He is about half the size of Waylan, but is quickly catching up to Faith. Johnny has nice pigmentation, is very outgoing, and like all of them, loves to be held!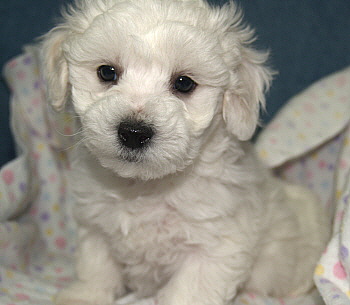 Carrie: Our sweet Carrie is the largest of the girls, but is a little smaller than her brother Waylan. She has a very calm personality, loves to be held, and can hardly wait for that food bowl to set down. She has excellent pigmentation, and an outstanding coat.
Age 8 Weeks
This week we all took our first car ride to the vet. We are all happy and healthy, and all of us have found new homes!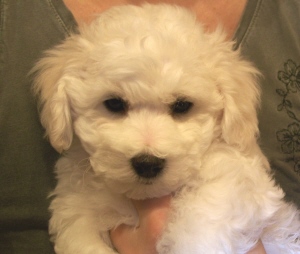 Waylan
Sara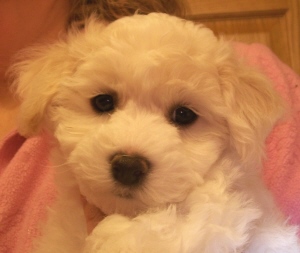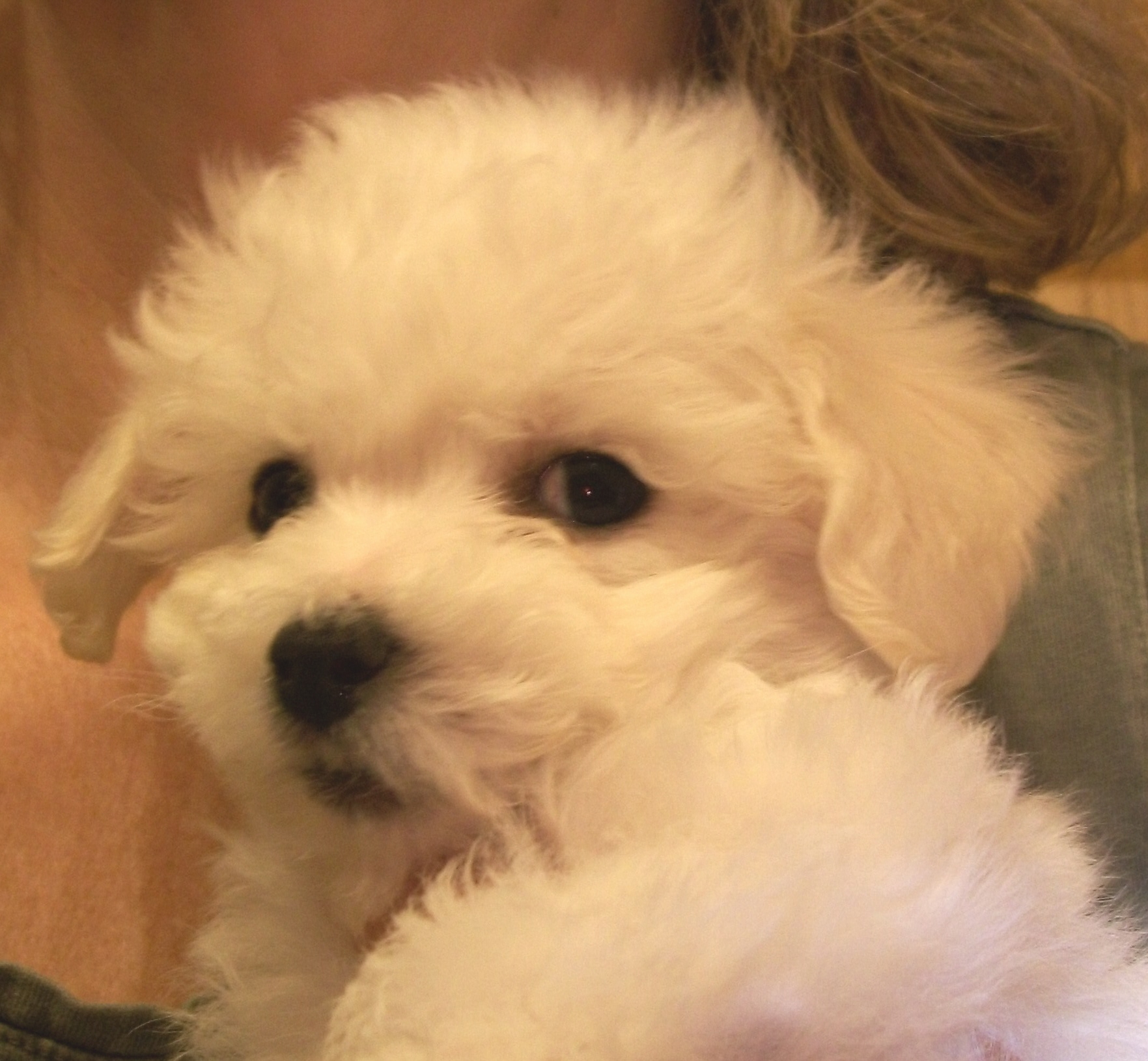 Johnny
Carrie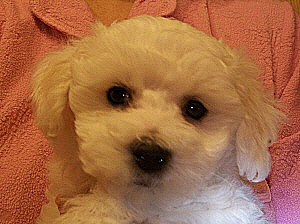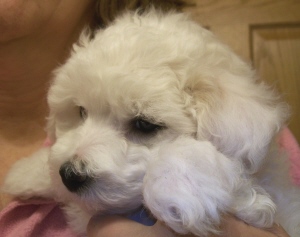 Faith
Click Here to see our Bichon Frise Puppies from earlier this year!