Our 2012 Winter

Puppies and Their People
Watch us Grow!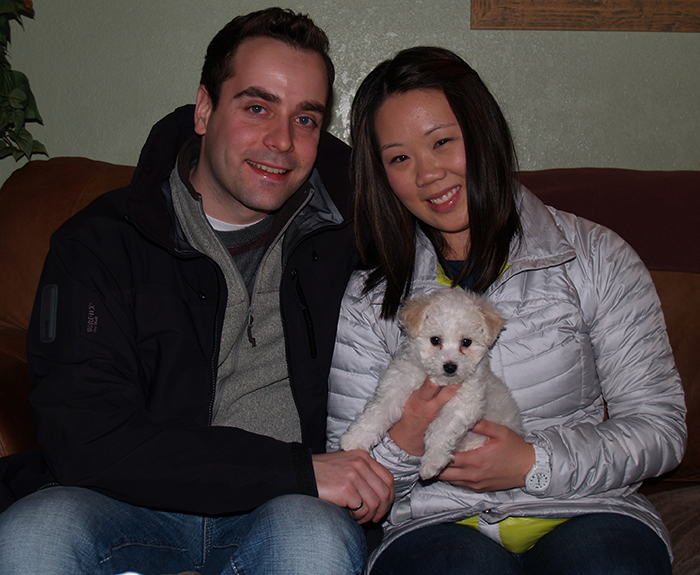 Tanya
Tanya was tiny when she was born, 3.2 ounces, but she quickly caught up to the pack and became everyones best friend!... Voted Most Popular Puppy for 2012, Sophie now lives with Adam and Desiree in Seattle Washington. She looks so much like her Mommy, Taylor, with the pretty Apricot ears.
Hi Terri,
I wanted to give you an update on Sophie...
She is doing very well! Yesterday she had her second vet appointment where she received her next puppy immunization along with the kennel cough drops in her nose. After the drops went in her nose she let out the cutest sequence of sneezes! She is doing very well and growing nicely, she weighed in at 3.5 pounds yesterday.
Sophie continues to be very busy and playful! She certainly keeps us and herself entertained. She is a very smart little puppy. From a training perspective she is making really great progress. She is very consistent with going on her potty patch, we have been accident free for a week now! I can't thank you enough for the crate training that you did with her before we brought her home, it certainly has made going to bed and sleeping much easier. After a couple of days, once the newness of being in her new home wore off, we were only getting up once with her in the middle of the night, but now she is sleeping through the night! She goes to bed around 10:30 and is waking up between 6:30-7:30.
Your grooming tricks worked! Like you suggested I found something more interesting and less scary to distract her with and she takes grooming like a champ now. I give her a little rawhide chew and she goes to town on that while I clean up her face and trim her nails. Thanks for the advice!
Thank you so much for starting such a great learning foundation for her. Next up is leash training and "sit". We start puppy classes on Feb. 16. We are looking forward to that.
Enjoy some pictures from the past couple of weeks. :)
Desiree and Adam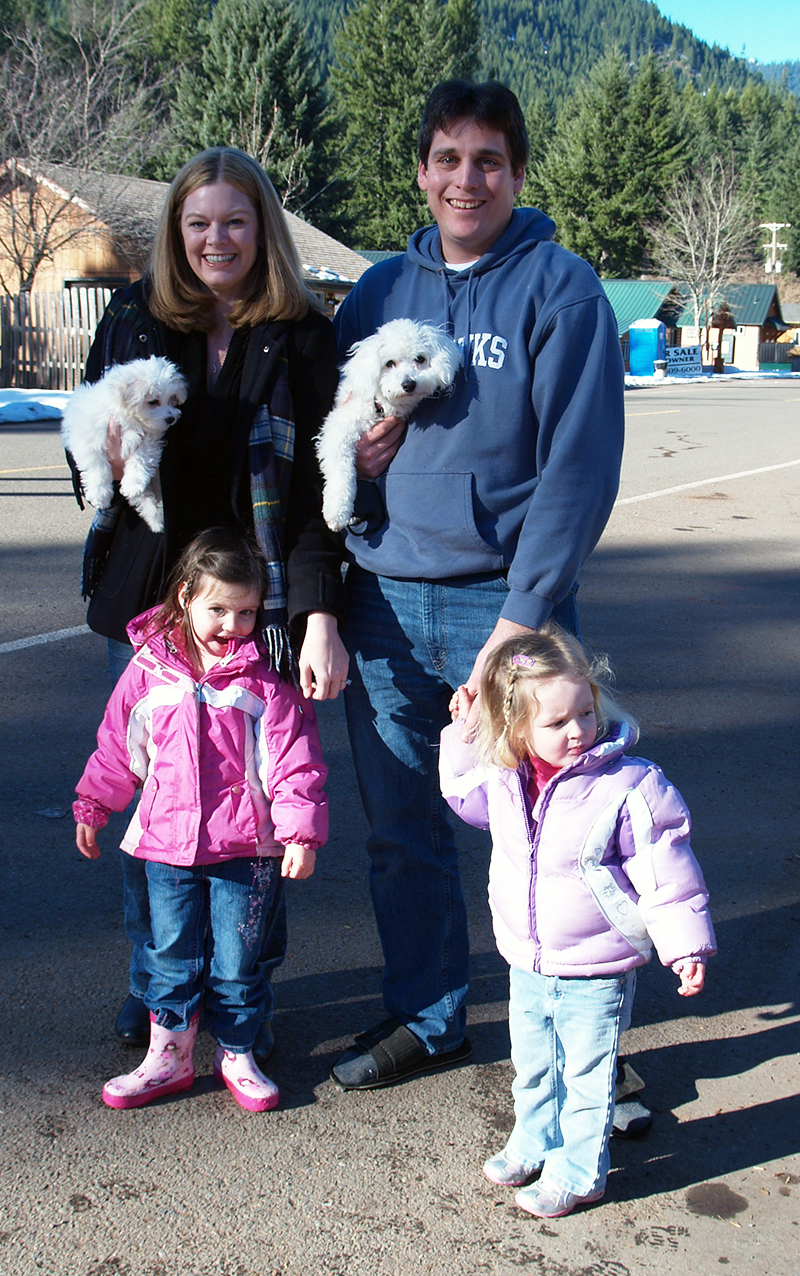 Jo Dee
Well if this beautiful family from Salem, Oregon looks familiar to you, its because they are already part of the Luv'n Country Bichon family. Their young male Bichon, Finley, (pictured right) was from our Fall 2011 litter. Now he is joined by his full baby sister, who is now known as Dahlila (pictured left)! The two pups are getting along quite well.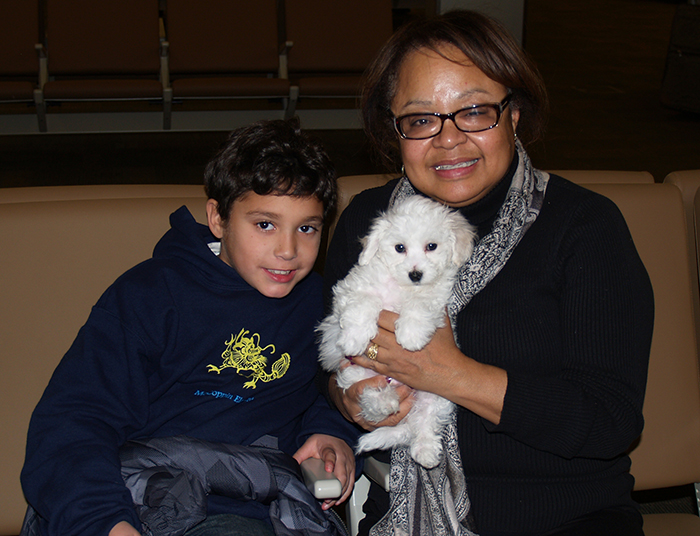 Luke
I know Bruce and Dorothy probably don't believe me now, but their new baby boy, Luke, was our Mr Mellow of this big litter of 7. When the food was ready all the puppies ran as fast as they could to the bowl, but not Luke, he just mosied on over and made sure he got his share.
If there was a new toy to play with, Luke would just slowly move in and walk away with it for his own , with all the other puppies following behind. That's why we have awarded Luke the "Cool Hand Award" for 2012. Luke is still known as Luke, and is living happily with his little brother, Eddie, in San Francisco California. We thank Dorothy and her grandson for flying up to get this sweet little guy.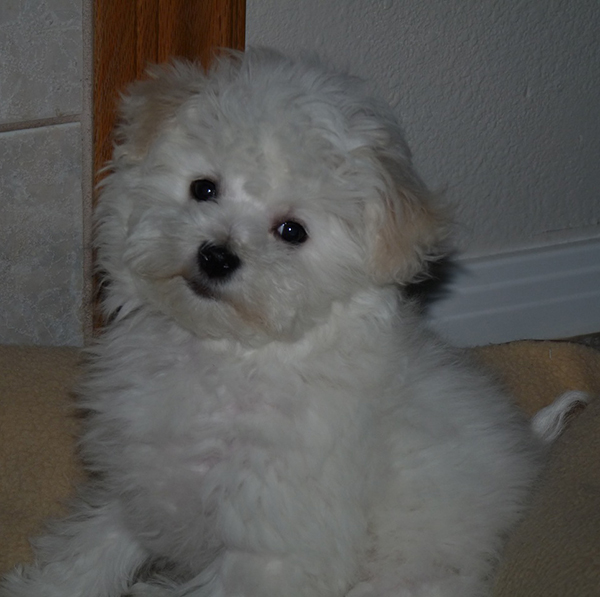 Naomi
Our smallest baby of 2012 was the tiny Naomi, born weighing only 3 ounces. That's smaller than a cube of butter. When you have such a large litter you often have some very small puppies. Naomi was strong at first for her size, but soon needed help getting enough food. She stayed very small throughout the growing period, and was finally able to go live with, Tim and Cheryl, in Las Vegas Nevada at age 13 weeks. She then weighed just over 2 pounds. Cheryl thinks that Naomi has some good potential for the Show Ring. Her name will remain Naomi, and we now call her our Las Vegas Show girl.
Dear Terri,
I want to thank you for taking the time out of your days talking with me on the phone before receiving my little girl, and after bringing her home.
I wanted to let you know in writing how much we appreciated working with you. I really enjoyed your photos every week, and loved being able to see Naomi on skype while she was growing up.
Also, the whole process of flying her to Las Vegas from Portland Oregon was smooth and so easy for us to get her home safely.
I would recommend you to any one that is looking for a healthy Bichon Frise, and looking for a reputable breeder. Naomi is a beautiful, healthy, and a sweet little girl. Don't be surprised we may call you again in the future for another one of your Luv'n Country Bichons!
I hope you enjoyed the photos we sent you I will send you more photos as Naomi grows up.

Best regards,
Tim & Cheryl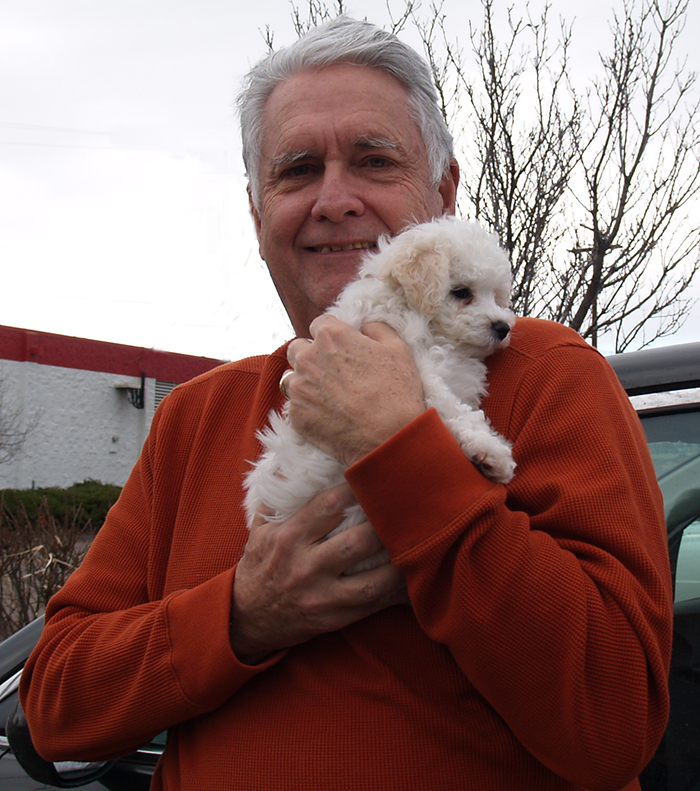 Tammy
There's always one in every litter who just seems to be the snuggler, and the one who begs pick me up, pick me up, please, please, me, me, me, choose me. That was our sweet girl Tammy, who is now known as Lulu. Lulu has livened things up in the Hood River, Oregon home of Alexandra and Paul. Their older Bichon Frise, Bear, had quite a shock with the arrival of her new baby sister. But all things get easier over time, and we're sure that Bear will learn to love this little lady just as much as we have.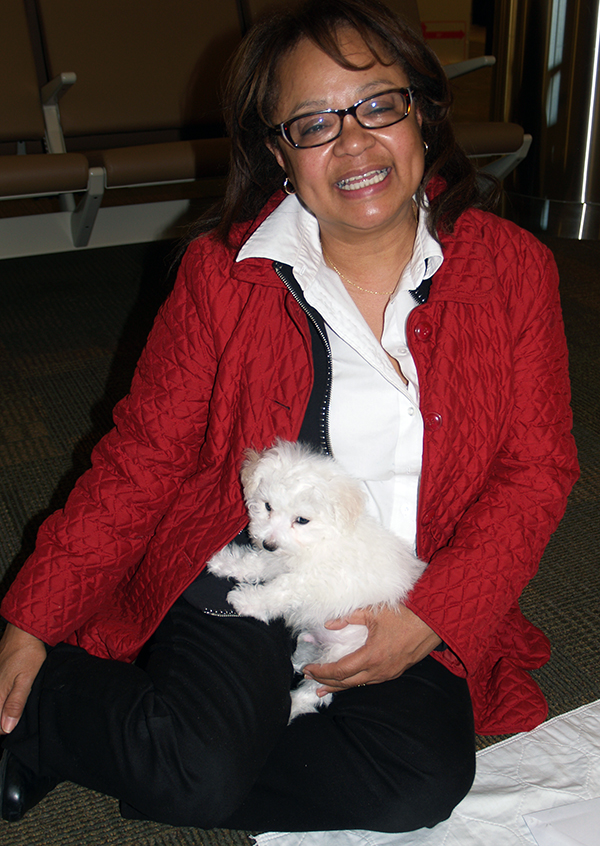 Eddie
There will always be a special place in my heart for my little man, Eddie. I miss him so much, even as I write this. The life of every puppy we bring into this world is fragile, some more than others. As a breeder, I have made it my responsibility to save as many of my puppies as I possibly can, and to match our puppies with the best families they can be with. I am proud to say that Eddie, who has kept his name, is now thriving and living happily with Bruce, Dorothy, and his big brother Luke in San Francisco California.
Eddie was born first in our litter, and his brother Luke right after him, both the same size, at 4.8 ounces. But after a few days we could see that Eddie was struggling. For some reason he was unable to nurse on his Mommy. I hand fed Eddie until he was about 6 weeks of age and could start eating softened puppy food on his own. Puppies like Eddie would normally die without our intervention. They take constant care....feeding them every one to two hours at first. To make our story short, .... After two trips to emergency, and many many hours of TLC, Eddie is doing great!!
Thank you Dorothy and Bruce for loving my sweet baby boy!
Eddie Video age 5 weeks and more photos.
_______________________________________________
We want to thank all of our new Luv'n Country Bichon Family members who have adopted our babies from our 2012 Winter Litter. It was a season filled with laughter, sleepless nights, some tears, but mostly joy as we found great families for our babies to love.
"Healthy puppies with loving families, that's what it's all about!
Terri Mills