Our Summer 2012 Puppies
and Their People

"Tennessee"
When one of us called him the "sweet boy", we all new we were talking about Tennessee. So mellow, and so loving, and so reminding us of his Daddy in looks. Tennesse wins the Luv'n Country 2012 award for "Best Behaved Puppy". His new Mommy and Daddy, Cindy and Bob, are probably thinking that I'm crazy right about now, but he was quiet compared to the others (lol)!!! Really!! Tennessee has a cool new name...Scooter, and he is luv'n life in Mukilteo, Washington.

Hi Terri:

Thank you again for giving us such a great send-off with our precious Scooter. He is a delightful puppy, but even more, it was wonderful to meet you and Mark. You two are a great team!

Our 7 hour trip home on Saturday was a breeze. Scooter did not get sick at all, and slept almost the whole way home. When we got home, he took to his new surroundings very well: within 10 minutes he was zooming around and playing with his toys. He bonded with us right away. You should see him with Bob! They are great buddies, and play and hang around together a lot. As for me--well, Scooter's like my little furry kid. He sleeps on the floor in his dog bed by my side of the bed. As long as he can keep me in sight, he's good to go. It gives me a warm fuzzy when he looks for me or gives me kisses.
We got back from the vet a little while ago. The doctor said Scooter was A-OK (actually, he said he was a little gem!). We got him microchipped as well. Scooter was a very good boy through it all. We set up his appointment for his 2nd round of shots, too.
All in all, things are going very well here. Scooter is teaching us about him, and about ourselves as well. Everyone who sees him falls in love with him. Bob and I were goners long ago. ;)
We can't thank you enough for letting us have Scooter. We will keep in touch and send photos
.
Hugs,
Cindy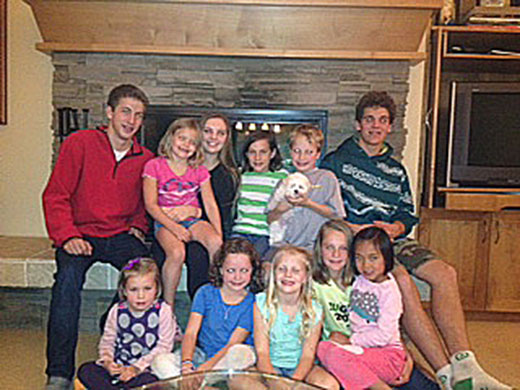 "Ernie"
Ernie is one of only two of our puppies living only 30 minutes away in Bend, Oregon! When Betsy and Jordy's young family learned that one of the babies was called Ernie, they knew it was meant to be, as that was one of the favorite names they were thinking of for thier new puppy!....Ernie it is, and here he is with his new kids and some of their cousins! What a lucky little guy to have so many nice people to love him and play with him!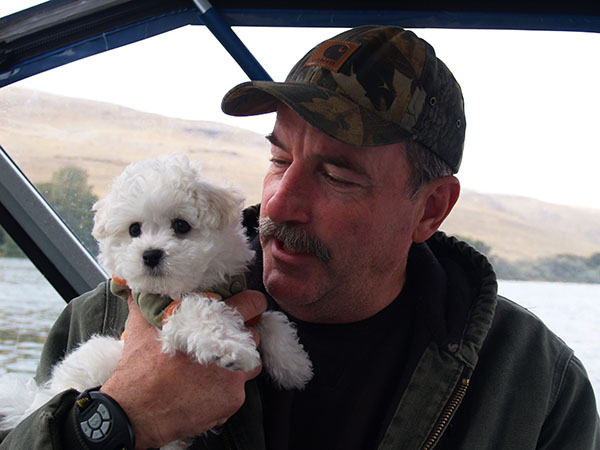 "Ford"
Well.....what can I say? It has finally happened. We have decided to keep one of our own babies. This is Mark and Ford out on our boat fishing for steelhead. Yes, Ford will keep his name too, and he will learn to be a good traveler and boat dog, just like his daddy, Toby! There is a story with his name:
He was the first born of this small litter of 3. It was Emmylou's first batch, and she had a little trouble delivering this first baby. He was quite large and coming backwards, and so we decided to take her into emergency. Emergency is 35 to 40 minutes away... About 3 minutes before we got there....out came our precious boy!....I was in the back seat of our Ford Pickup, with Emmylou in her crate, helping her every step of the way....All turned out fine! We went home and she had no trouble with the other two babies... And so we named him Ford, and the other pups Tennessee and Ernie to match the well known classic country and gospel singer, Tennessee Ernie Ford!!!! Ford turned out to be a very tiny male puppy. At this time, age 12 weeks, he is only 3 pounds. We are so happy he has joined our Bichon Family!
_________________________




We so appreciate all of the nice comments you have made about this litter of puppies, and our previous litters as well. We really do enjoy meeting and speaking with so many nice people. If you are interested in someday having one of these precious companions, please fill our our questionnaire which you will find on the left hand side of this page. We will only sell to preapproved applications. We would love to meet you and someday include you on one of our next "Puppies and Their People" pages!

"Healthy puppies with loving families, that's what it's all about!"

Terri Mills