Our 2010 Bichon Frise Puppies
& T

heir People
"Healthy puppies with loving families, that's what it's all about!"

Terri Mills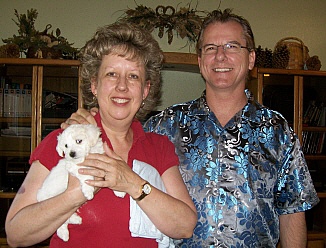 Clint
Now known as "Frosty Frise", he lives in Grants Pass Oregon with his new Mom and Dad, Punkie and Jeff.
"Frosty had his first time at the Groomer on Wednesday September 8th. The groomer said she knew we didn't find this quality of Bichon locally. She commented on his brilliant coat of hair and his happy disposition. Hope you are all doing well."
Warm Regards, Jeff and Punkie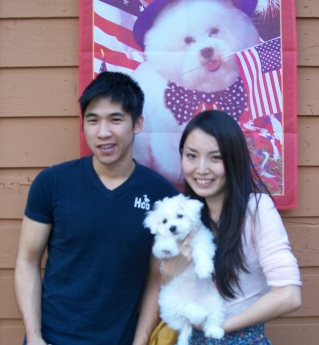 Bonnie
She is now known as "Chloe", and she has a nice new home in Portland Oregon with Ahn and Mayumi. Chloe will be doing some traveling! We look forward to seeing pictures of her when she visits Japan!
"Chloe has been doing great! She knows where to potty, and has been running around everywhere! She is extremely shy around other dogs. We have been taking her to a puppy class and she is a little better with the pups there... we are hoping that time will (hopefully) help everything."
Mayumi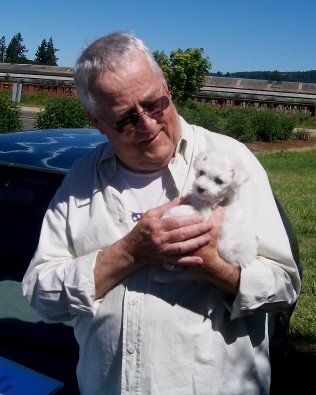 Minnie
She was and still is, "Minnie". Our smallest baby of 2010 is healthy and happy living with her new Daddy, Paul, on the Yaquina River in Toledo Oregon.
"She just really loves people, and they all seem to love her as well. She is a people charmer just like you said. I expect she will be, all of her life. Minnie is healthy as can be and just soooo full of life and love. She is a joy to be with."
Paul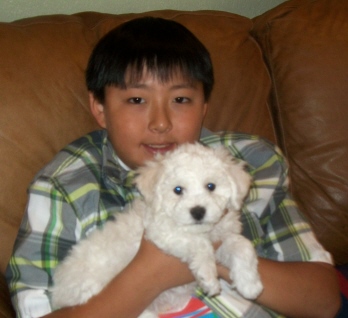 Trisha
She is beautiful, just like her new name, "Keiko". It's our favorite new bichon frise puppies name for 2010! She is having lots of fun with her friend Chris and his family in San Jose California.
"Keiko is doing very well and is thriving. She is a very happy little youngster and is extremely silly at times which often makes us laugh. All of our friends really love her and think she is adorable. She is also very smart. Keiko has learned how not to go on to the street. Sometimes her ball rolls out into the street and when chasing it, she stops at the curb. She also learned how to sit, stay, speak, and stand up for treats (she loves her treats). Although, she does not care for her baths, she is very calm while grooming even while clipping her nails and combing out hair clumps (very trusting). Couldn't have picked a better new family member. By the way, she is a major licker ( as in, your face)!"
Michael, Nikki, and Chris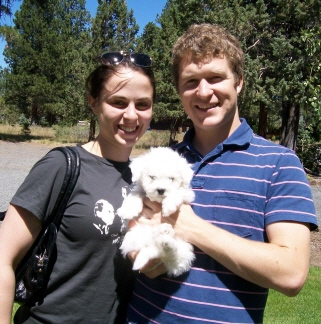 Jackson
They have named him "Oscar". He has a wonderful new home in Seattle Washington with Rae, Rob, and their 6 year old Bichon, Harvey. What a lucky boy to have new parents who know all about Bichons!
"My wife and I recently purchased a boy bichon puppy from the absolutely lovely Luv'n Country Bichon's Terri Mills. We searched online for months, trying to find bichon breeders around Seattle, but we settled on Luv'n Country due to their website (plenty of good photos, dogs all looked healthy and purebred) and how easy it was to coordinate with Terri over the phone. We made the 5 hour drive (which was surprisingly beautiful) from Seattle to Sisters and met the pups. She had plenty to choose from, 3 girls and 3 boys. They seemed extremely well cared for, from all their shots being up to date to having a huge yard to run around in. Terri is so comprehensive when it comes to the whole process, giving us an entire binder full of medical forms, a genealogy tree, and general info on Bichons. We're not show dog owners or breeders, but if we were, our puppy would be a great candidate. As for the pup we chose, we think we hit the jackpot. Friends and family are amazed at how cute he is, even our Veterinarian said he was one of the cutest puppies she's ever seen and he has a great temperament to boot. Full of energy and tons of fun, but doesn't chew up the whole house. And he got such a great head start on good training while with Terri, he apparently didn't even need to be crate trained...at 10 weeks old! He's 17 weeks old now and is perfectly healthy. He's also so attached to us we don't need a leash when we take him for walks, during which all the passersby remark how cute he is. If we ever want another bichon and we're on the west coast, we're getting one from Luv'n Country."
Rob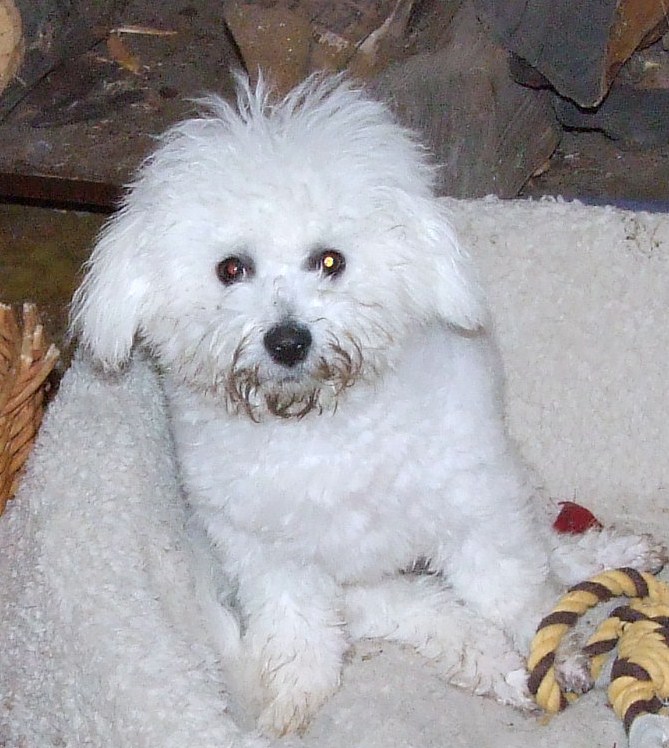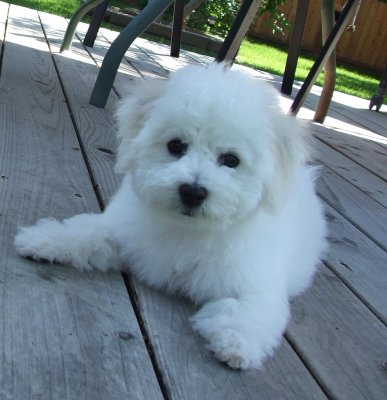 Star
She's still the star of the show, and just as adorable as she was when she left us at 8 weeks old. Her new home is in Nampa Idaho. Rod and Margie call her "Starlet", and they say she never fails to entertain them. She loves playing with their other Bichon Frise, Fashion. Starlett is a happy girl, full of energy, and can always find ways to amuse herself. As you can see from her photo, she likes to dig a little too. This pretty girl is definitely a "Busy Bichon"!
"I'm so happy. She is just exactly what you promised . She is so loveable & what a doll!"
Thank You, Margie.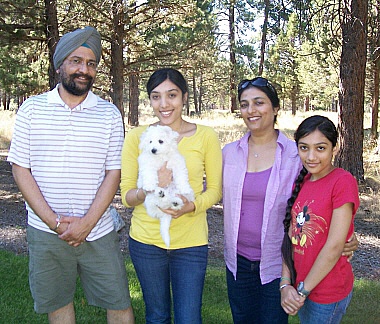 Bentley
Sukhdev, Rippi, and their two girls have named him "Polu". They say he's been nothing but "a bundle of joy" and a wonderful addition to their family, even when he has his naughty puppy moments. "Polu" now enjoys playing with his new family in his new home in Beaverton Oregon.
Ravleen (holding Polu), loves photography. "I have been having fun taking pictures of him. I thought you might like to see a few of them as an update. He's getting bigger but is of course, still as adorable as ever. We all love him so much!"
More Polu Photos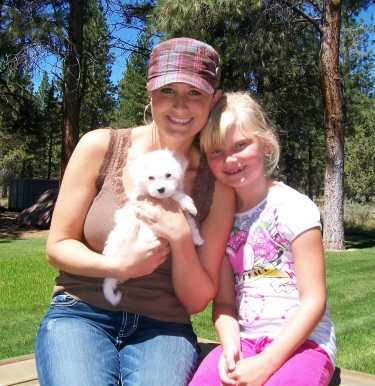 Dolly
Her name is "Georgia Lou", and she is living like a little princess in Moscow Idaho with her new family Maria, Dave and Ava.
"Our experience with the entire process with you guys was AMAZING!! I really appreciated all your input and your patience with my decision making! We are absolutely over the moon with little Lou. All our friends are in love with her too! She is settling nicely into our routine and is a smart and loving little girl. We could not be more pleased with our overall experience with you. Thank you so much for providing us with our newest family member!"
Maria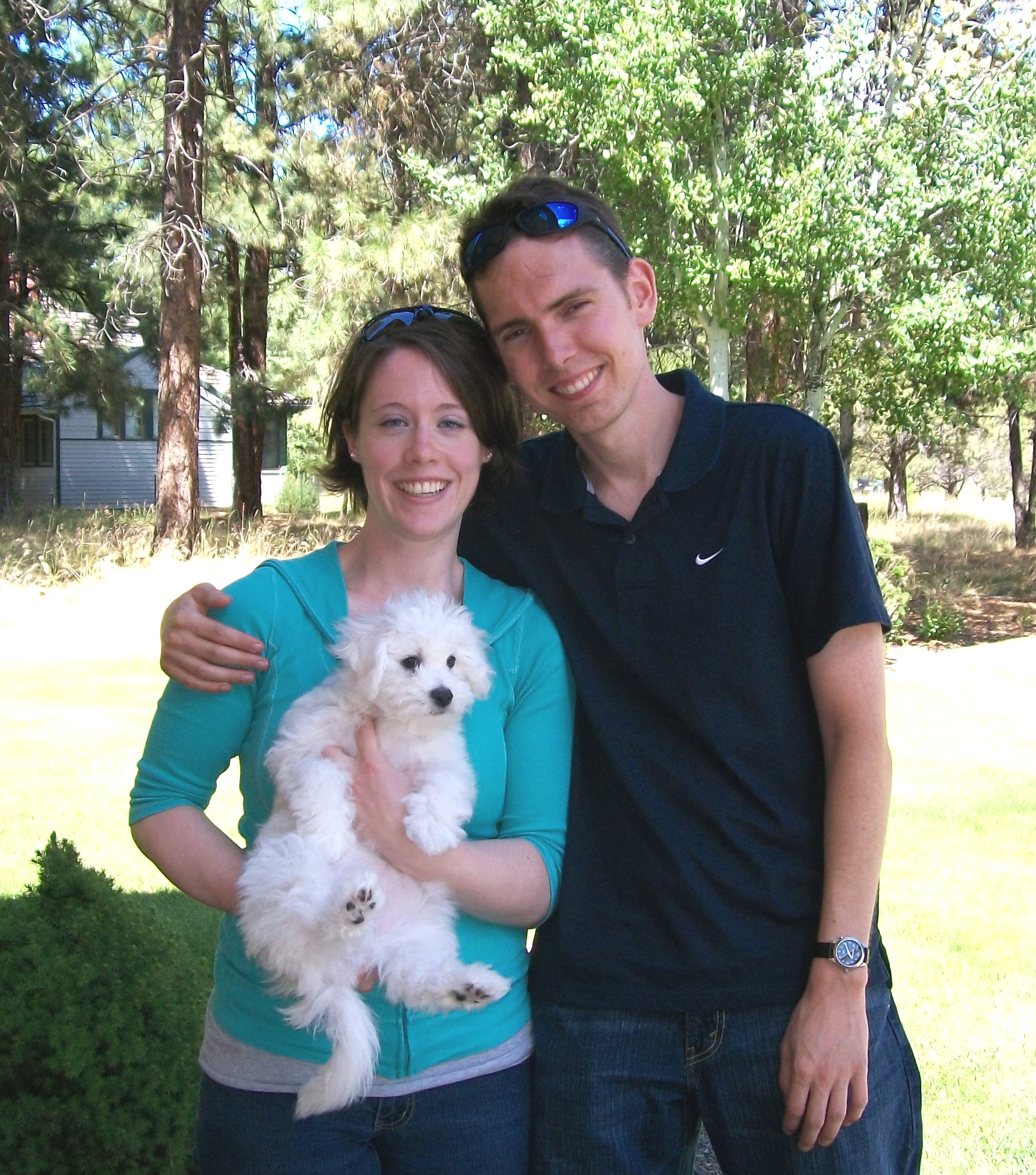 Gretchen
Her new parents, Kristy and Andy, drove a long way to take their little girl home to Bellingham Washington. "Quincy is so sweet. We love her!" Yes, her new name is "Quincy", and she even has her own Facebook page!
"Quincy is doing wonderful! She started obedience school on Tuesday. The trainer was impressed with how good her bite inhibition is and remarked that she must have come from a really good breeder."
Andy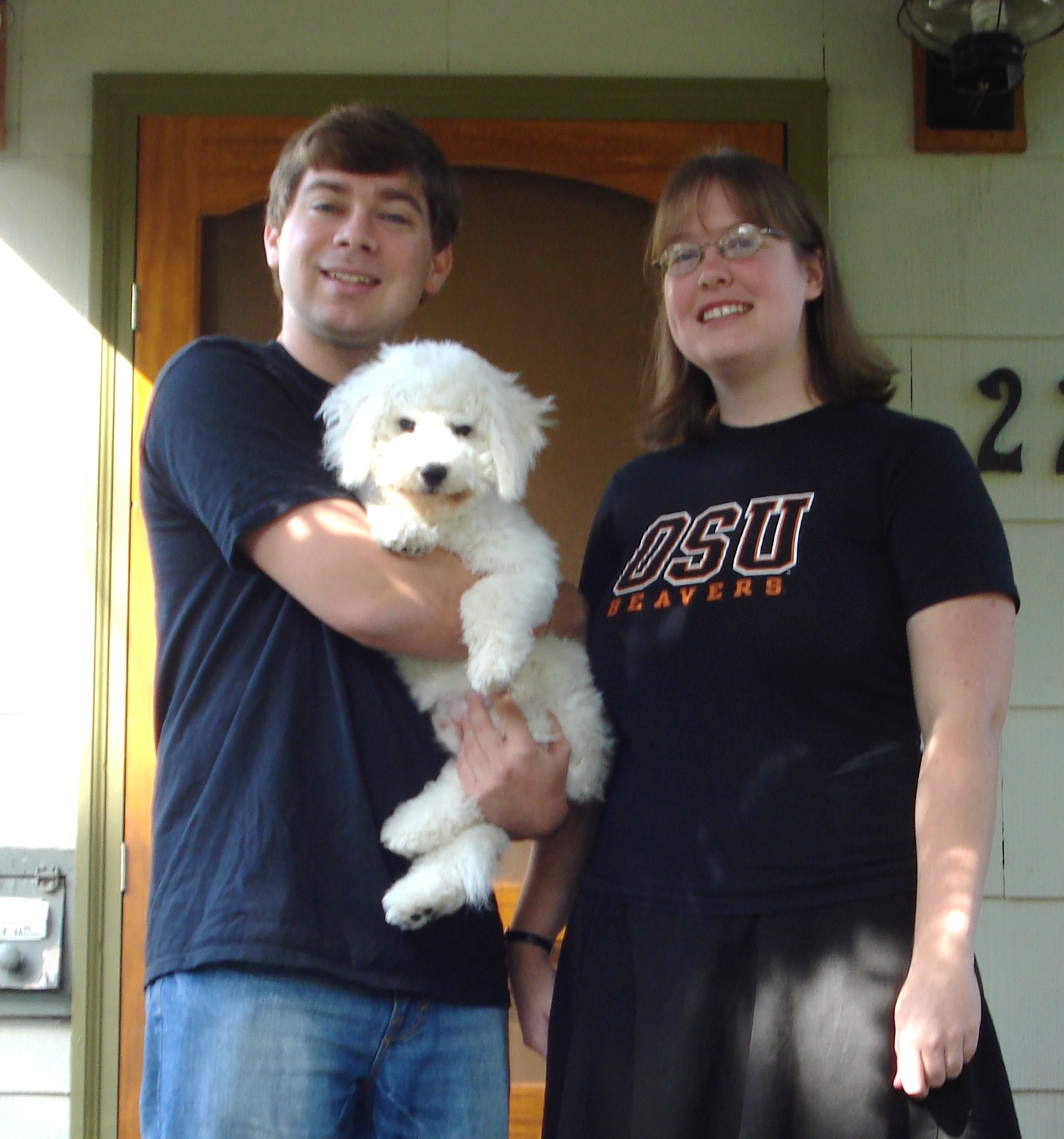 Beau
Moving from Pennsylvania to Corvallis Oregon became even more exciting for Christian and Emily when they had a new family member waiting for their arrival. They named him "Fermi", and he has our vote for "Best Personality" of our 2010 Bichon Frise Puppies.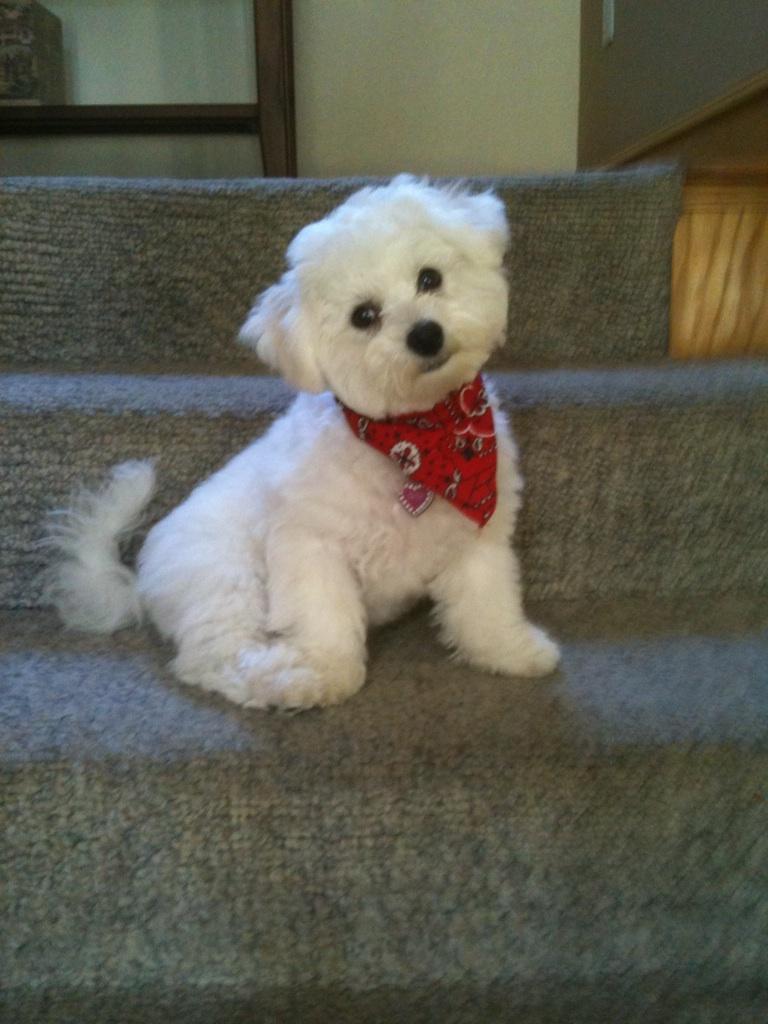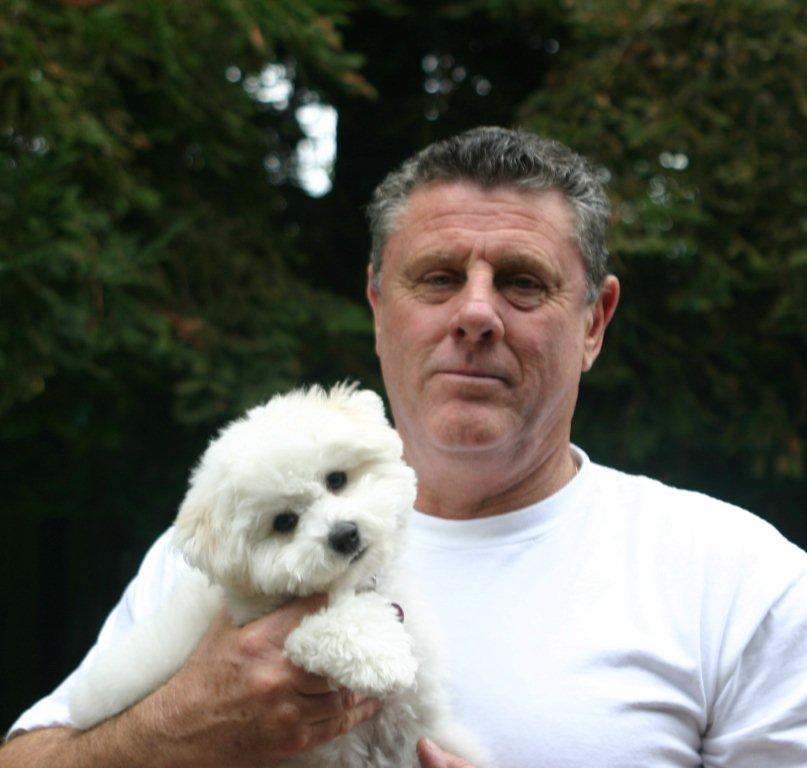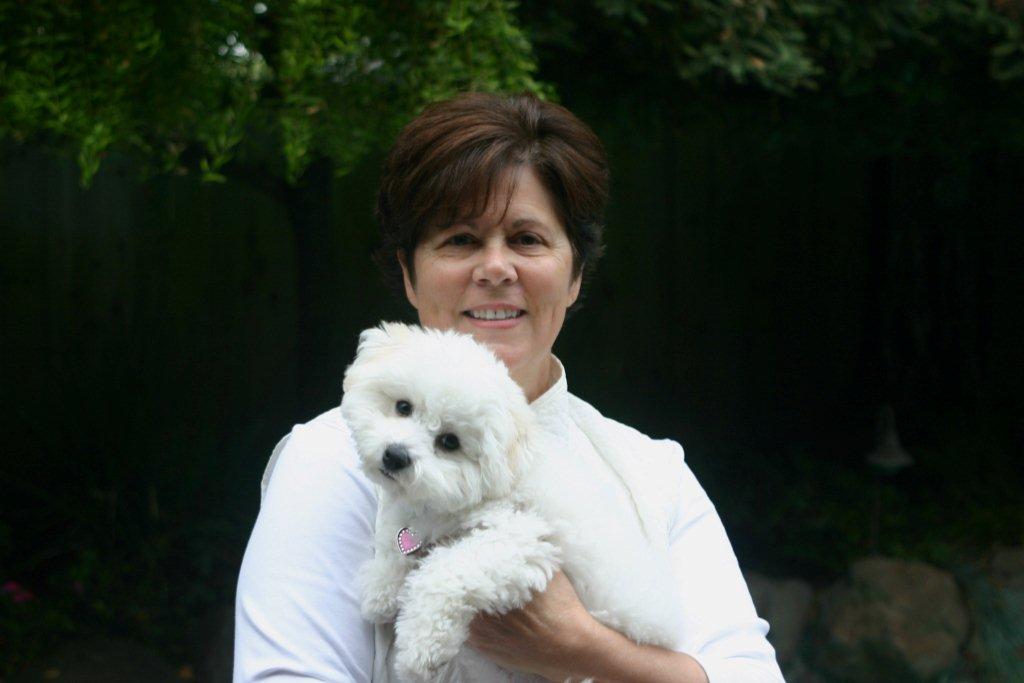 Georgia
They call her "Gigi"! Sharon decided to surpise her husband, Peter, with a new little buddy, and Gigi has stolen the hearts of everyone in the family. Now living in Stockton California, Gigi, has found no problem fitting in. Look at her posing with her nice 1st grooming!
"GiGi is absolutely everything I had expected and more. She's just darling. Peter and I can't thank you enough for everything you've done to make this transition so pleasant. You are a class act and it's so beyond obvious how much you love your babies. I'll keep sending pictures. "
Take care,
Sharon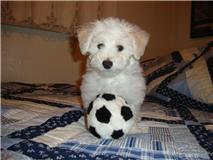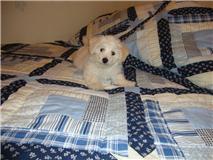 Hank
Everyone wants to know, where did mellow Hank go? Well this sweet boy is up north in Fairbanks Alaska with his new Mom and Dad, Nina and Jerry! It was a long trip, but he made it fine. They call him "Cammy", and he'll do great in Alaska. Cammy has our vote for "Best Coat" of the litters. He'll have no trouble staying warm when the weather turns cold!