Bichon Frise Puppies in Oregon





Our Bichon Frise puppies in Oregon are all raised in our home, and must be well adjusted and healthy prior to leaving with their new family. They will all have had at least their first shot and a wellness check before they can leave us. Usually this will be no sooner than 8 or 9 weeks of age. Most of our puppies are sold as companions only, meaning they will not be used for breeding purposes, however, our goal is to achieve AKC show standards for the breed for any of the puppies we produce. Click here to see our Oregon Bichon puppy guarantees.
If you are interested in showing dogs please call or email us for more information.
If you are trying to find an older Bichon Frise, contact us, as we often hear of adult dogs that are available. Or you might consider checking out one of the Bichon rescue centers like smallpawsrescue.org.
If you are interested in joining our Bichon family, please take a few minutes to fill out our Puppy Questionnaire to be on our list of applications. Or give us a call at 541-749-8933, and we can tell you more about these bichons and our upcoming litters.
Click here to watch our Fall 2013 puppies grow!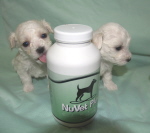 "We love NuVet Plus Vitamin Supplements"